Flame-Sim offers virtual firefighting training
Software simulation can train on nearly limitless scenarios
---
By Scott M. Bruner
FireRescue1 Product Editor
As fire training simulators enter the electronic age, one product has been designed to take advantage of the videogame age — Flame-Sim. Flame-Sim, using video game simulation technology, offers an opportunity for firefighters to plan, coordinate and execute suppression techniques on virtual fires.
"What Flame-Sim provides for fire departments is the ability to give guys experience-based, immersion training," Bob Hayes, national account manager for Flame-Sim, said.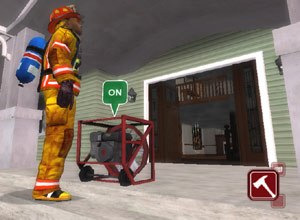 Up to 10 different users can simultaneously be training on Flame-Sim, which is a PC-based software program designed to simulate the dynamic conditions of fighting a fire. Each user is controlling an individual firefighter tasked with any number of real life duties, from primary attack, to ventilation, to support. Every task required in real life is mirrored in Flame-Sim's virtual one.
"What Flame-Sim can do that other programs can't is they can have up to 10 individuals at 10 separate computers that can basically represent 10 on scene fire companies. Each one sitting at a computer station is a virtual officer on that apparatus. They become that person," Hayes said.
In addition to attempting a simulation of the unpredictable nature of fire, it's also designed to simulate the consequences of decisions on how to attack it. After the simulation, firefighters are then able to debrief, examining their decisions and how they affected the outcome.
"The beauty of the program is that five groups of people running through the exact same scenario can have five different outcomes. It depends on how an incident commander makes decisions and how firefighters carry them out," Hayes said. "The actions and decisions of one can affect everybody."
There are 17 structures included in the program ready to burn, and most objects in the home burn like their real life counterparts and can be manipulated. Virtual firefighters can open and close doors, look under beds, and search in closets. Apparatus are also modeled in the program, with each providing a certain limited amount of tools, from different size hoses to Halligan bars, which virtual firefighters can unload and use.
The program is fully customizable. Training supervisors can place fires in any room in the structures, decide how many victims — whether walking around or injured – are in the structure, even determine how long the fire has been burning before the firefighters arrived.
Some of the advantages of virtual training include the lower cost than training with real life apparatus, the ability to simulate a host of different fire scenarios, and the reduced chance of injury. In this scenario, the only chance of injury is a sprained thumb.
One version of the software, ready for PC installation and an Xbox controller to control the virtual firefighters, retails for $1,599. A complete training system which includes five top-of-the-line HP laptops fully loaded with Flame-Sim costs $17,000.
Flame-Sim's goal is to provide fire departments with a realistic, cost effective, interactive and educational supplemental training tool to improve the safety and effectiveness of fire personnel. You can visit them on the Web at www.flame-sim.com.