Md. study to test efficacy of VR in pediatric EMS
Researchers aim to measure the value of virtual reality for providers as they work to identify signs of severe illness and infants and children
---
Julia Edinger
Government Technology
GAITHERSBURG, Md. — A medical innovation company recently launched a study funded by the National Institute of Standards and Technology (NIST) to assess how effective virtual reality (VR) is in the training of EMS personnel, specifically in the assessment of pediatric emergencies.
According to Dr. Brian Gillett, president of Health Scholars, the study will pit traditional EMS training against voice-driven VR interface training data through September.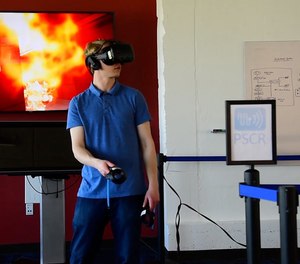 "The primary outcome is measuring the value of VR with regard to better preparing paramedics and EMTs at identifying the signs of severe illness in infants and children," Gillett stated. "We'll identify the performance gains between those that actually had the VR training [compared] to those who had traditional training."
The result he hopes to see from the study is that there will be significant improvement in trainees' competence with the use of VR.
Data has already been collected from the Arvada Fire Protection District (AFPD), Los Pinos Fire Protection District and Upper Pine River Fire Protection District (UPRFPD) in Colorado, and Plano Fire-Rescue in Texas recently entered the study.
Other EMS agencies have had positive results in utilizing VR training for mass-casualty events. Similar technology is also being implemented by police departments.
This VR application teaches responders the pediatric assessment triangle (PAT), which is a method of identifying severe illness based on appearance, breathing and circulation.
The funding came from NIST after Health Scholars applied for a development grant to understand the value of different user interfaces for EMS training in the VR space, Gillett explained. The study involved first responders acting as health-care providers through the modality of a voice-driven VR interface.
Gillett said that it can be difficult for responders to identify illness in the pediatric space because children between the ages of infancy and three years old present symptoms more subtly than adults do.
Christina Ingwalson, chief marketing officer of Health Scholars, elaborated on what the scenarios look like. Responders put on an Oculus headset and see themselves in a home, presented with young children or infants of different ethnicities. Responders are then tasked with assessing the patients based on the PAT method.
An avatar will then explain what was right and wrong in the trainee's diagnosis and will demonstrate the proper priorities in treating that child, Gillett explained. After completing the training, the responders will have an experiential reference of symptom identification and management of a child, albeit in a virtual environment. A graphical report on the back end of the software then informs them of areas of possible improvement.
Data was collected from several differing groups, as Arvada Fire Protection District EMS Captain Robert Putfark explained, either at an individual station or at a central location like a headquarters. One subgroup of trainees was proctored at each location and the other subgroup was not.
Prior to the implementation of the VR technology, training for these types of scenarios was primarily lecture-based or computer-based, Putfark said. His department, for example, would integrate computer-based exercises using videos of children pulled from the American Heart Association for diagnosis training. However, these trainings were not interactive like the VR scenarios.
For rural districts, like Upper Pine River Fire Protection District, the VR component may be the only chance to interact with a sick child, as the district's EMS education coordinator Joel Claus explained. He noted that being six hours from Denver, first responders are rarely able to interact directly with a symptomatic child in a clinical setting.
According to Claus, the feedback from his department on the technology has been positive.
While some of the less tech-savvy users have required a bit of operational training on VR, there were few challenges in using it. One limitation Claus noted is that the training is operated through the Internet, and there is not currently an option to save progress. For stations without a stable Internet connection, that could hinder the completion of the training.
Putfark noted that while his team's scores were initially low with the learning curve regarding VR technology, he plans to continually train his team with the technology and compare scores again in the future.
While the data analysis will not be done until the study concludes, Gillett noted that some trends are already emerging.
"And there is an early trend showing significant scores and competency improvement after a VR experience," Gillett said. "Ultimately, though, we'll need to conclude the study to get the actual data — but we're already seeing an early trend here."
___
(c)2021 Government Technology
McClatchy-Tribune News Service

Request product info from top Fire Simulation companies
Thank You!