Trauma simulation turns heads at FRI
---
By Jamie Thompson
FireRescue1 Editor
DALLAS — Offering everything from face lacerations to abdominal eviscerations, David Parry Jr. literally made his mark on Fire-Rescue International in Dallas.
The vice president of Techline Trauma hosted one of the more eye-catching booths with the company's line of wound kits on display.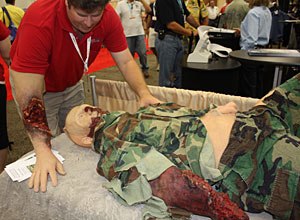 Based in Pennsylvania, the company launched the range about two years ago following a request from U.S. Army Research, Development and Engineering Command to develop severe trauma simulations and improved moulage.
"They identified a need for more realistic training as they were finding a psychological breakdown between the training the shock of personnel seeing their squad mates get hit," Parry said.
"It was actually causing a delay in responding to what happened, which is a serious issue when in major bleeds you may only have two minutes."
Once the line was developed, Parry said he quickly realized the products would be suited to training needs in emergency services.
"I did a lot of research and found that blast injuries can be similar to the types of injuries that can be sustained in things like industrial accidents and automobile injuries," Parry said.
"We also started making more of our line in keeping with traumatic injuries rather than burns."
The wound simulations can be strapped on an actor or a mannequin, and offer realistic bleeding flesh textures, the weight and feel of an actual limb and bleeding can even be stopped by application of tourniquet.
The "skin" is pliable and backed by a tear resistant material, with the wounds being anchored in place with 10,000 tear hook and loop fasteners and is cross stitched for durability.
Kits are provided with blood bags and reservoirs for bleeding effects and are designed to work with existing moulage technology.
"If you can present more realistic traumatic injuries for training, EMTs and firefighters are going to be much better prepared for when the real incident happens," Parry said.
"This is a real shift in the level of realism that is available."