PRESS RELEASE
Duality featured on Fast Company's 2023 World Changing Ideas list for "Rush Hour Emergency and Response Simulation in Smart Cities" project
---
SAN MATEO, Calif. - Earlier this month, Fast Company named Duality to its 2023 list of World Changing Ideas. Recognizing Duality's project, "Rush Hour Emergency and Response Simulation in Smart Cities," this social impact–focused award seeks to amplify companies, products, and concepts that are pursuing innovation for the good of society and the planet. Duality was named a Finalist in the Rapid Response category and received Honorable Mentions in two additional categories, Small Business and On The Rise.
The project features a semi-autonomous, teleoperated Emergency Medical Services (EMS) unit navigating a metropolis with over one million real-time simulated vehicle and pedestrian agents, while coordinating its path with traffic information and assisting ground units.
This type of digital twin-based simulation, exhibiting very high-fidelity on a massive, city-scale is imperative for accurate emergency response modeling — but until recently, its feasibility was largely unproven. By leveraging Falcon, Duality's digital twin integration platform, this simulation was built in under three months.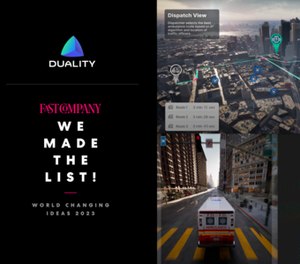 "Falcon's ability to bring in multiple parties, with their own digital twins into a single, shared, real-time simulation enables coordination on a whole new level," said Apurva Shah, CEO of Duality. "Companies, agencies, and individuals can co-design, accurately test, and improve responses to complex scenarios before ever having to face them. And with the arrival of autonomous vehicles and robots, fully integrated into these response plans, responders will be better prepared to face dangerous situations in the real world."
Falcon is already being implemented to solve complex and diverse data problems, ranging from training autonomous artificial intelligence and machine learning (AI/ML) systems for off-road navigation to warehouse automation to eliminating waste in large scale manufacturing. By working with Amazon Web Services (AWS), Duality leveraged AWS SimSpace Weaver to bring Falcon's simulation tools to the massive scale required for emergency response scenarios.
Since debuting this project in November 2022, Duality has continued their work in response planning and has expanded their scope into large-scale climate disasters. A current collaborative project with the Open Geospatial Consortium (OGC) aims to improve responses to forest fires by leveraging geospatial data to build site-specific digital twins.
"Four years ago, Duality set out to build the enterprise metaverse to solve real problems. We dreamed of taking on these kinds of impactful challenges!" Mr. Shah adds. "And now we are seeing validation that digital twins can simulate and address increasingly more complex real-world needs. In a time when all industries are exploring what digital twins can accomplish, we are thrilled to receive Fast Company's recognition for our project and its broader applicability in solving uniquely difficult problems."
To learn more about the "Rush Hour Emergency and Response Simulation in Smart Cities" project, visit: https://www.duality.ai/blog/city-scale-simulation.
About the World Changing Ideas Awards
World Changing Ideas is one of Fast Company's major annual awards programs and is focused on social good, seeking to elevate finished products and brave concepts that make the world better. A panel of judges from across sectors choose winners, finalists, and honorable mentions based on feasibility and the potential for impact. With the goals of awarding ingenuity and fostering innovation, Fast Company draws attention to ideas with great potential and helps them expand their reach to inspire more people to start working on solving the problems that affect us all.
About Duality
Duality, is a software company focused on building Falcon, the digital twin integration platform. Organizations today are leveraging Falcon to help solve complex engineering problems. By bringing accurate digital twins of environments and operating systems into Falcon, Duality's customers generate high-fidelity data and predictive behavior modeling that enables them to deploy automated systems robustly and at scale. Duality's multidisciplinary team includes world-class engineers, simulation specialists, AI/ML experts and award-winning technical artists with over 70 patents across robotics, simulation, and visualization.