PRESS RELEASE
TEEX testing validates FLAIM's VR immersive learning solution as alternative method of firefighting training
---
COLLEGE STATION, Texas - FLAIM Systems, an emerging leader in immersive learning solutions, is pleased to announce the release of an independent TEEX-Tested report which has evaluated the effectiveness of the company's lead product, the FLAIM Trainer, to provide training and acquisition decision makers with information regarding the product's operational performance.
Highlights:
FLAIM Trainer is the world's first fully immersive virtual firefighting training system, delivering a safe and cost-effective way to replicate the stress and uncertainty of real-world situations to better prepare the firefighter community to respond
TEEX-Tested reports provide unbiased and thorough assessments of products based on first-responder technologies and are generated by an international leader in emergency response training, the Texas A&M Engineering Extension Service (TEEX) Testing & Innovation Center (TT&IC)
The report concludes that the FLAIM Trainer performs as designed, can offer training and ongoing education to the firefighter community, and provides a valid medium for conducting training while allowing safe conditions where live training is otherwise too hazardous, costly, or hard to access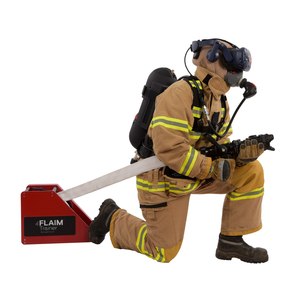 TEEX-Tested report highlights
The TT&IC conducts performance assessments in operational environments by experienced professionals using representative facilities and environments in which the product is expected to perform. Operators perform functions that are expected in operational service and assess the products and solutions using the manufacturer's guidelines and instructions to assess performance.
TEEX tests follow a process including standards reviews, metrics development, expert panel reviews, test plan and scenario development and quantitative and qualitative measurements and surveys.
User feedback indicated the FLAIM Trainer is a valid training tool for initial, refresher, and advanced firefighter training. The report has evaluated the functionality, reliability, and performance results of the FLAIM Trainer as follows:
Participants and instructors found the system easy to set up, teach from and operate reliably.
The system is comprehensive and provides all equipment necessary for operation. Instructors remarked upon the variety of scenarios offered with each having sufficient sub events and valid training objectives.
There are new software releases every six months that include improvements, additional scenarios and increased/enhanced capabilities to current subscribers.
Participants reported that the scenarios were realistic, and the water/foam flow and effects were normal. Additionally, the simulated hose back pressure, heat vest and Self-Contained Breathing Apparatus (SCBA) mask enhanced the immersive effect and reacted in a realistic manner.
Instructors and students believed the system provided learning opportunities in decision-making; exposure to infrequent, but needed, hazardous environments; and practice of tactics, techniques, and procedures. It was noted that it would be a useful recruiting tool.
No system failures occurred during testing.
As a result of reviewer and participant feedback and overall testing, the TT&IC has concluded that the FLAIM Trainer performs as designed and can provide training and ongoing education to the firefighter community.
The report indicates that while not a substitute for live-fire training, FLAIM Trainer provides a valid medium for conducting training while allowing safe conditions where live training is otherwise too hazardous or costly, access to facilities is not available, inclement weather or environmental conditions do not permit live training, or the student is not conditioned to participate in live training due to temporary health issues.
The TT&IC noted that FLAIM Trainer's packaging, ease of setup and intuitive operation enable the system to be highly mobile and allow it to be transported from station to station to benefit volunteer and career departments.
Please click here to view a video interview with Jason Moats, Director of the TEEX Testing and Innovation Center, regarding the FLAIM Trainer.
For detailed testing analysis and results, please click here to view the full TEEX-Tested report.
Director of the TEEX Testing and Innovation Center, Jason Moats, said:
"We are grateful to FLAIM Systems and our partners at Darley for allowing us to independently test FLAIM Trainer. The results of our TEEX-Tested report provide valuable feedback to our first responders and to their chiefs and their decision-makers.
"The results of our report indicate that FLAIM Trainer and virtual reality training systems are extremely important as we prepare to train our next generation of emergency services workers. We know that fire departments need to build experts today, but they don't have the luxury of taking 10 years to put 10,000 hours of practice into their personnel. Our TEEX-Tested report indicates that the FLAIM Trainer can form part of that solution, empowering emergency services organisations to efficiently build expertise, build it properly, and build it so that it stays."
FLAIM Systems Director of Business Development – Americas, Evan Wing, said:
"We are pleased to see the results of the TEEX Testing & Innovation Center putting the FLAIM Trainer through its paces. No other center focused on innovative first-responder technologies is positioned as well as the TT&IC to provide subject-matter expertise, updated methodologies and philosophies on public safety.
"We want to be clear that the TEEX-Tested report does not constitute an endorsement of the FLAIM Trainer. This is an independent evaluation of how a simulation tool can be scoped, onboarded, implemented, and ultimately how it can be used to impact fire service for better or worse. It validates that FLAIM Trainer is a viable additional training option that can augment required live burn training. In this capacity, the product provides additional time for firefighters to develop skills, exercise decision-making and experience rare scenarios in a safe and environmentally friendly training environment.
"We would like to thank the TT&IC for developing an unbiased report which examines how FLAIM Trainer can be used in practical settings, and we encourage all emergency services decision makers to take up the valuable insights in the report."
About FLAIM Systems Pty Ltd
FLAIM Systems has developed the world's first multi-sensory immersive learning solution for firefighters to replicate the stress and uncertainty of real-world emergency situations safely and cost-effectively in safe virtual environments.
The company's FLAIM Trainer is the world's first immersive technology enabled firefighter training solution. FLAIM Trainer combines high fidelity virtual hazardous fire environments, audio, and industry standard equipment to deliver a fully immersive, multi-sensory, physical experience that enables firefighters to train more, learn more and be better prepared for the risks they face when delivering their service to the community.
Workplace Safety: FIRE is the world-leading end-to-end solution for fire safety training. It immerses trainees in a multi-sensory, kinaesthetic experience, using the FLAIM Extinguisher prop, Vive Focus VR headset, a comprehensive library of immersive fire safety scenarios and FLAIM's world-leading fire behaviour to enhance learner competency, improve organisational compliance and deliver certified training outcomes.
Founded in 2019 and based in Victoria, Australia, today FLAIM Systems continues to pioneer solutions to improve the safety and performance of all those who respond to fire, rescue, and emergency situations.
About TEEX
TEEX-Tested reports are generated by the Texas A&M Engineering Extension Service (TEEX) Testing & Innovation Center (TT&IC). TEEX is an internationally recognized leader in emergency response training, workforce training and technical assistance. In 2022, TEEX served people from every U.S. state and territory and 107 countries worldwide, providing training in industrial and municipal firefighting, community preparedness and emergency response, urban search and rescue, hazardous materials, oil spill response and EMS.
TT&IC works to advance both technology and policy, as well as build and sustain collaboration between organizations. This is accomplished by leveraging the knowledge, experience, world-class facilities and direct access to practitioners and research scientists to become a premier resource for both emerging and established public safety technologies.
For nearly a decade, the TT&IC has focused on facilitating rapid identification and implementation of innovation in the Public Safety and Homeland Security ecosystems. The TT&IC's unbiased and thorough assessments help innovators to develop, test and deliver products based on first-responder technologies to the global market.
About FLAIM Trainer
FLAIM Trainer delivers a safe and cost-effective way to replicate the stress and uncertainty of real-world situations to better prepare the firefighter community to respond. It combines a VR headset with haptic technology, which creates a kinaesthetic "feels-real" experience by applying force feedback to the user. This includes simulating an operational fire hose and a thermal vest that reproduces the heat firefighters experience in different scenarios from the direction of the fire.
FLAIM Trainer tracks performance data in real time against training outcomes. This includes task completion time, air and water usage, stress levels, where the trainee is moving and looking within the scenario, how they position themselves and interact with virtual objects in the scenario such as gas meters, electrical boxes, or the fire itself.
As FLAIM training is virtual, there is no carcinogen exposure to the firefighter or instructor, and 2,000 hours of annual training in one system saves the equivalent of 20 million litres of water and 27 tonnes of carbon emissions.