PRESS RELEASE
"Discovering Fire Service II: The Other Side" highlights the history of firefighting along with fire apparatus maintenance and inspection
---
ELLIJAY, Ga. – While fire has been essential to the development of civilization, it also has been known to be a villain. A new journal focuses on that latter tendency, highlighting the stages of firefighting and the development of fire departments, starting with volunteers and eventually to paid firefighters.
In "Discovering Fire Service II: The Other Side," author John Owens CEO shares from when the first fire equipment was developed through present day equipment. Improvements came with much trial and error, including many failures. This journal contains general information on design features and situations that can overwhelm firefighters with some of the best and current equipment presently manufactured. It also includes an introduction to maintenance and inspection of fire apparatus, including ground ladders.
"This journal was written to give firefighters, fire buffs and anyone interested in firefighting history, a summary of how firefighting has improved through hundreds of years of trial and error," said Owens, "resulting in safer equipment, improved maintenance, inspections and training for firefighters."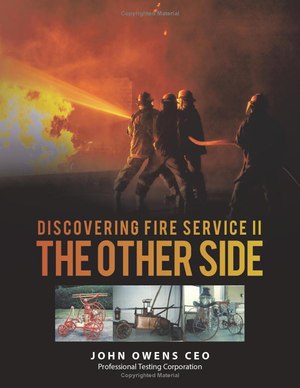 Owens began designing fire apparatus, cranes and derricks at age 19, and was later certified by the U.S. Department of Labor O.S.H.A. for crane and derrick inspections. For 20 years, his company, Professional Testing, Inc., performed third-party inspections of firefighting apparatus and equipment for safety and even played a role in their design. In 1975, Owens developed the Fire Department Aerial Apparatus Inspection Program.
"Discovering Fire Service II: The Other Side"
By John Owens CEO
ISBN: 9781665734196 (softcover); 9781665734202 (hardcover); 9781665734219 (electronic)
Available at Archway Publishing, Amazon and Barnes & Noble
About the author
John Owens is the CEO of Professional Testing Corp., a certified crane and apparatus inspector, designer of fire apparatus, and has assisted in developing third-party testing for fire apparatus. He attended a private engineering and drafting School, along with 6 months at a trade school for descriptive geometry and calculus. He later attended Cyprus College, Cypress, CA., for additional schooling. In 1978, he started Professional Testing, Inc. Owens was married for 32 years and raised 3 beautiful girls. To learn more, please visit www.discoveringfireserviceii.com.