How to create a DIY WUI fireline bag for structural firefighters
From the bag itself to the gear to cram inside, here's everything you need to ensure you're ready for action at a WUI fire
---
This content originally appeared in FireRescue1's PPE101 newsletter. Sign up here for the latest news, training and standards information related to firefighter PPE.
It seems not a day goes by in the summer and fall months that I don't see firefighters wearing traditional structural PPE to fight wildland-urban interface (WUI) fires. This concerns me greatly because two of the significant hazards for a firefighter working in their PPE anytime, on any type of emergency call for service, are hyperthermia injuries (e.g., cramps, exhaustion, heat stroke) and a sudden cardiac event (SCE), such as a heart attack or stroke.
The probability that structural firefighters will be called to engage a fire in the WUI is only increasing. Even as temperatures continue to soar, and drought conditions turn forested areas into tinderboxes, people continue to relocate and build homes in the WUI. This continued development is putting people and structures in a vulnerable position when that tinderbox ignites.
A fourth discipline – WUI firefighting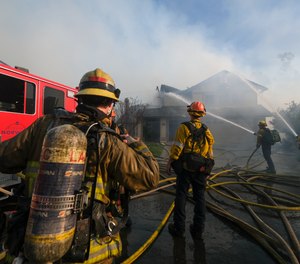 Fire suppression forces have traditionally been subdivided into three disciplines: structural, wildland and aircraft crash/fire rescue. I believe that we're overdue to add a fourth – WUI firefighting, not an offshoot from wildland but its own discipline.
We need to provide more training for WUI firefighting to our structural firefighters, and we need to begin properly equipping them for the job. But until this becomes a reality, we can at least help structural firefighters construct their own WUI fireline bag.
Fireline bag for WUI firefighting
Wildland firefighters typically have two bags ready for service at any time: a fireline backpack and a "red bag." The fireline backpack is designed for short-duration and generally weighs less than 20 pounds, while their "red bag" – also known as a travel bag – will top out at 45 pounds and is intended to support longer deployments.
As structural firefighters are most likely to need the fireline bag, that's what we'll cover here.
The bag: There are several things to consider when choosing a pack to use as your fireline bag:
Can you deploy your fire shelter without having to take off your pack?
Can you quickly locate items in your pack?
Are your shoulders clear so that you can carry equipment (e.g., hose packs or bundles)?
Look for a pack that places most of the load on your hips, keeping your upper body free to engage in firefighting tasks, because even a 20-pound pack can start to get heavy when you've been on your feet for a couple hours.
A quick online search found a number of packs that can fit the bill for a WUI firefighter's line pack for $200 or less, like the Shift Pack from Mystery Ranch, the Gen 2 Spyder Gear Pack from True North and the Top Load Web Gear Pack from The Pack Shack.
When assembling your bag, do so with the intent that it's going to support you for a day or two. The backpack is largely composed of essential line gear, like the following:
Fire shelter: This is the most important piece of equipment for your bag, because in the event you are faced with being overrun by a fire, it's the one tool that gives you the greatest chance of survival.
Fire gloves: Fire gloves protect your hands and wrists from burns, abrasions and cuts. Ideally, gloves should have long, non-burn cuffs for enhanced protection.
Helmet: Shedding that extra weight of your structural firefighting helmet, and the accompanying heat buildup, is a good reason to have a wildland firefighting helmet. The Full Brim Helmet with Ratchet Suspension and the Cap Helmet with Ratchet Suspension (both from Bullard) are two popular wildland firefighting helmets that can be purchased for less than $100.
Eye protection: Safety glasses or goggles are essential for protecting your eyes from flying embers and other airborne particulate matter, especially when the wind picks up.
Hydration: Dehydration and hyperthermia are such significant threats to all firefighters, but even more so for WUI firefighters faced with conducting suppression operations for hours on end under the intense heat of the sun. Considering the serious health risks associated with dehydration, it's essential to carry ample amounts of water. Carry at least 4 quarts (3.78 L) of water in canteens, unbreakable bottles or a hydration pack.
Insect repellant: Fire is not the only threat when working in the WUI. Do everything possible to avoid bug bites, particularly from ticks (Lyme disease) and mosquitoes (West Nile virus), which are annoying at best and debilitating (or even lethal) at worst.
In Wirecutter's review of the best insect repellents that are safe and effective, the author advises to skip the DEET and get a picaridin formula, like Sawyer Products 20% Picaridin Insect Repellent or Ranger Ready Picaridin 20% Tick + Insect Repellent. From the review:
Our research led us to seek a spray with a 20% concentration of picaridin—a repellent chemical that's as effective as DEET, but without the drawbacks. It's the best bottle of bug spray we found after testing 23 repellents and talking to everyone from the EPA to the American Mosquito Control Association.
Increase your protection with an insect repellent that can be applied to clothing and gear like Sawyer Products Permethrin Fabric Treatment.
First aid kit: Make sure you have a first aid kit containing the essential equipment they need to treat common injuries that can happen in the WUI (e.g., sprains, blisters, burns and cuts):
Bandage Materials

Blister/Burn

Wound Care

5 – Bandage, adhesive fabric, 1x3"
1 – Moleskin, pre-cut and shaped (11 pieces)
6 – Antiseptic wipe
3 – Bandage, adhesive fabric, knuckle
Instrument:
3 – Safety pins
2 – Alcohol swab
2 – Bandage, butterfly closure
1 – Splinter picker/tick remover forceps
1 – Tape, 1/2"x10 yards
1 – Bandage, conforming gauze, 2"
Medication: 
2 – After Bite wipe
1 – Skin Tac topical adhesive, wipe
2 – Dressing, gauze, sterile 2x2", pkg/2
2 – Antihistamine (diphenhydramine 25 mg)
2 – Triple antibiotic ointment, single use
2 – Dressing, gauze, sterile 3x3", pkg/2
2 – Asprin (235 mg), pkg/2
 
1 – Dressing, non-adherent, sterile, 3"x4"
2 – Ibuprofen (200 mg), pkg/2
 
 
2 – Acetaminophen (500 mg), pkg/2
 
---
GPS and compass: Getting lost while battling a fire or not knowing how to get to your assigned area can be the difference between life and death. You must stay oriented on the incident scene – a scene that can encompass a large geographical area you may not be familiar with, especially if they are part of a mutual-aid response coming from a distance to bolster local firefighting resources. As such, keep a portable GPS (handheld or wrist model) and a compass in your pack. GPS will help you easily navigate to where you need to go in an emergency, while a compass provides redundancy in case of a technical issue with the GPS.
Headlamp and flashlight: If you can't see, you're not safe. And many times, WUI firefighters will find themselves working into the night, making it essential to have individual lighting options in your bag. Ensure that you're packing a headlamp and a right-angle flashlight (like the one you probably have clipped on your structural firefighting jacket). Also, make sure you have spare batteries for both.
Various high-visibility flagging: A couple of rolls of bright, high-visibility flagging (surveyor's tape) in different colors can be used in several ways. Use flagging to mark trails into a fire, making for a safer, more effective and more efficient evacuation if necessary. Mark equipment and gear left along the fireline and identify hazards (e.g., snags, ruts, stump holes). Ideally, flagging should be a bright, eye-catching color and highly resistant to cold-cracking.
Ready to go
Structural firefighters are going to find themselves responding to more fires in the WUI, so it's increasingly important to have gear that's appropriate for the work. This list should offer a good start for assembling your WUI fireline bag – a key item to store on the apparatus for those times of year when you could be called upon to respond to a WUI fire, either in your area or further afield as part of a mutual-aid call.
Read Next: NWCG: 6-Minute for Safety—Subjective vs. Objective Hazards

Request product info from top Turnout Gear companies
Thank You!