How will the upcoming NFPA changes affect firefighters' gear?
Here's what's on the horizon as several standards are updated and consolidated
---
Sponsored by Globe
By Courtney Levin, FireRescue1 BrandFocus Staff
The fire service is constantly changing, introducing new tools, PPE, tactics and more to continuously ensure firefighter safety and efficiency. Some of these changes occur quickly, while others take time to evaluate and evolve. To keep up with these industry dynamics, the National Fire Protection Association (NFPA) periodically modifies the codes and standards to which everyone in the fire service must adhere.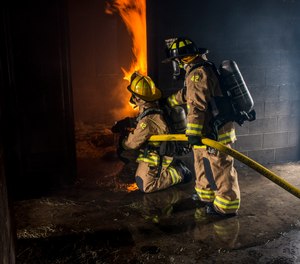 The NFPA is currently in the process of revising several standards and consolidating them to develop a clearer set of guidelines surrounding protective gear, self-contained breathing apparatuses and personal alert safety systems.
Expected to be released in early 2024, the new standard, NFPA 1970, will encompass much of the information contained in NFPA standards 1971, 1975, 1981 and 1982, along with revised guidelines and mandates.
During a recent FireRescue1 webinar, sponsored by MSA's Globe Products, Jeff Stull, president of International Personnel Protection, Inc., explained what those in the fire service can expect as the NFPA considers the following proposed changes, which are described below as proposed.
PROPOSED CHANGE NO. 1
The proposed new NFPA 1970 standard will significantly affect currently used hood designs, eliminating any reference to "standard hoods" and mandating that all newly manufactured hoods feature particulate-blocking capabilities. Given that this barrier layer can affect comfort and sizing, departments will need to pay close attention to the specifics of this proposed change.
Data from a study conducted by North Carolina State University found that many 2-layer hoods currently in use will not meet the new NFPA insulation requirements, which specify an average thermal protective performance (TPP) rating of no less than 20. Though not all hoods currently in use were tested, most of the 3-layer hoods that were examined will not meet the new breathability requirements set forth by NFPA 1970, which stipulates a total heat loss (THL) rating of no less than 325 W/m2.
It's also noted that cleaning effectiveness for particulate-blocking hoods will need further examination.
PROPOSED CHANGE NO. 2
Though not required, the proposed new NFPA 1970 standard will provide manufacturers a basis to claim their garments are free of per- and polyfluoroalkyl substances (PFAS) if they choose to. The revised standard will include a definition for PFAS, outline specific garment labeling requirements and detail all means of verification to be conducted by independent organizations.
Currently, there are no standardized tests for PFAS in textiles, including in the fire service, though there are standardized methods to test for PFAS in water and to test for total fluorine. The NFPA 1970 standard will aim to streamline the verification that certain materials have none, or have below a threshold amount, of certain substances and only allow manufacturers to make PFAS-free claims for garments made solely of materials with the corresponding verification.
PROPOSED CHANGE NO. 3
The life of turnout gear is a closely explored topic in the proposed NFPA 1970 standard with this proposed change establishing new criteria to ensure turnout gear maintains its level of performance throughout the life of the garment. It will include guidelines that entail repeated washing, heat and UV light exposure, as well as flex and abrasion testing in an attempt to simulate use conditions.
Not all turnout gear provides the same levels of durability, and some garments may be affected by the new changes. Ultimately, this proposed change will help ensure manufacturers are crafting gear that will last and perform according to the standard.
PROPOSED CHANGE NO. 4
Thermal protection and breathability are often highly prioritized when selecting turnout gear. The proposed NFPA 1970 standard will include new analysis methods and requirements for evaporative resistance, breathability and insulation. A focus will also be placed on material shrinkage, which can affect the process of testing for thermal protection.
These proposed changes will include new metrics that could add complexity when deciding how to balance various aspects of garment performance. Once specific performance levels are established, this modification could affect the qualification of some existing gear.
PROPOSED CHANGE NO. 5
Methods of effectively cleaning clothing to remove fireground contaminants are more closely explored within the NFPA 1970 standard. This proposed change will include guidance on measuring cleaning efficacy specific to individual materials using procedures similar to the current NFPA 1851 standard.
Since not all materials clean in the same way and repeated cleaning can alter a material over time, this change may require manufacturers to modify their garments to include increased contamination resistance or provide enhanced cleaning protocols. The cleanability of garments may become a larger factor in clothing selection once this standard is revised.
PROPOSED CHANGE NO. 6
Gear selection is an important element of firefighter safety and effectiveness, and this proposed change will create criteria to help departments assess how different types of PPE work together. Grouped by areas of performance rather than by product, the NFPA 1970 standard will include a range of new test methods for evaluating overall ensembles for thermal protection, heat stress impact and protection from particulates and gases.
This change will place a greater emphasis on gear interoperability and aid firefighters in making informed choices about their PPE. Test methods will also be introduced for manufacturers and laboratories.
LOOKING AHEAD
The NFPA aims to operate a transparent and collaborative process, offering multiple opportunities for individuals, agencies and organizations to provide input that can help shape standards revisions.
The public comment period on the NFPA 1970 standard closed January 4, 2023. The NFPA website indicates that a second draft report is expected to post October 4, 2023.
Once the new standard is implemented, manufacturers will be given 12 months to certify their products that are currently being manufactured. Equipment and gear purchased before NFPA 1970 can still be used by agencies as long as it is serviceable and was compliant with NFPA regulations at the time of purchase.
Click here to watch the webinar on demand.

Request information from Globe Turnout Gear
Thank You!