PRESS RELEASE
United Way of Medina County awards Fire-Dex as Business Partner of the Year
---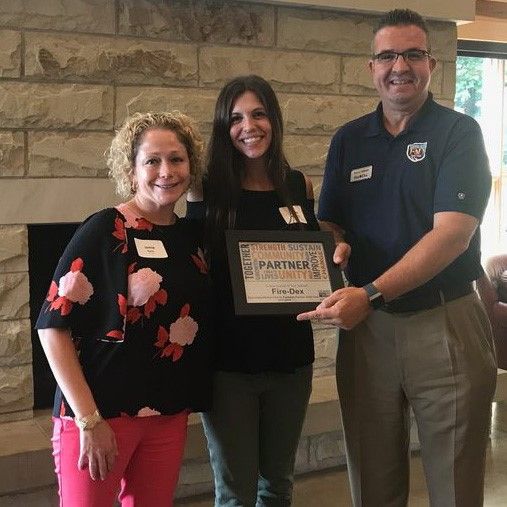 MEDINA, Ohio — Fire-Dex was recognized yesterday as United Way of Medina County's Business Partner of the Year. Jamie Marks, Jenny McPherson, and Steve Allison (pictured above) represented Fire-Dex at the Awards Ceremony.

Fire-Dex was selected based upon their commitment to the mission of the Employing Medina County program and their belief that everyone can have a financially self-sustaining life.

"Fire-Dex's commitment to their employees is very evident by the comments of our members who work for the company," said Debbie Boehmke, Program Manager at United Way of Medina County. "They feel that they are part of a family, are treated fairly, and are very proud of the work they do for first responders."

Fire-Dex received the award Wednesday at the United Way of Medina's Annual Community Meeting at the Lodge at Allardale in Medina. The mission of the United Way of Medina County is to mobilize people and resources by creating solutions that improve lives in the community. For more information about the United Way, visit www.unitedwaymedina.org.

About Fire-Dex
Fire-Dex, headquartered in Medina, Ohio, is a leading manufacturer of head-to-toe protection for first responders, including turnout gear, rescue PPE, boots, hoods, gloves and helmets. With a strong emphasis on health and safety, Fire-Dex has paved the path of innovation for the manufacturing of firefighting gear while focusing on the continuous improvement of our products and processes. Visit www.firedex.com for more information.

Request more info from Fire-Dex, Inc.
Thank You!