Gary Sinise Foundation, tire company donate new tires for emergency vehicles
The Gary Sinise Foundation partnered with Cooper Tires to give back to first responders during Public Service Recognition Week
---
By Laura French
FINDLAY, Ohio — The Gary Sinise Foundation and Cooper Tires partnered to donate new tires for emergency vehicles during Public Service Recognition Week, May 3-9.
The first responder charity and tire company said in a press release that 62 tires have been donated to eight departments across the country so far. The partnership seeks to provide public safety personnel with reliable tires that meet their needs and keep them safe on the road.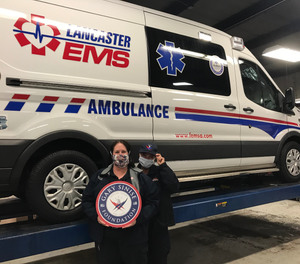 "In honor of National Public Service Recognition Week, we are grateful to be working with Cooper Tires for the second year in a row to donate new tires to our first responders. The Gary Sinise Foundation and Cooper Tires share a core belief in the importance of supporting and honoring the first responders that so courageously serve and protect us every day in communities across the country," Gary Sinise Foundation COO Elizabeth Fields said in a statement. "Now more than ever, our first responders are absolutely indispensable to the safety of our country, and these donations free up resources so that these departments can perform to the best of their abilities." 
Public Service Recognition Week is observed during the first full week of May and was first established in 1985. Last year, Cooper Tires and the Gary Sinise Foundation donated 30 tires to three departments in California, Kentucky and Nebraska. 
"We are grateful once again to have the opportunity to work with the Gary Sinise Foundation, an organization committed to serving America's heroes and their loved ones. The Foundation has a long history of honoring first responders, and we are proud to be working with them to identify first responder departments, including both fire and EMT station, across the county where essential equipment, like our tires, can have the greatest impact," Jessica Egerton, director of brand development at Cooper Tire & Rubber Company, said. "First responders rely on their vehicles to protect our communities, so we are honored to provide new tires that they can rely on to help them get where they need to go and stay safe while doing so." 
Lancaster EMS in Pennsylvania, which received a donation of 12 Cooper tires this year, expressed their gratitude on Facebook.
"BEYOND GRATEFUL!" the statement read. "WE THANK YOU FOR YOUR GENEROSITY!"