The traffic safety cone has been in use for decades – here's how it got reinvented
Enhanced visibility, compact storage and easy deployment make the old familiar new again, while improving safety for emergency responders
---
Sponsored by PSS
By Laura Neitzel, FireRescue1 BrandFocus Staff
The original rubber traffic cone was invented by Charles D. Scanlon, a painter in the street painting department of the City of Los Angeles. He identified problems with the large wooden barricades then in use to identify "dangerous spots in the highway such as those caused by repairs, etc."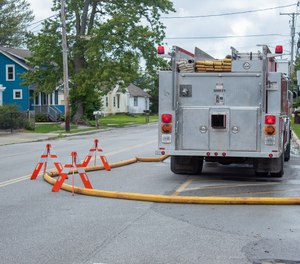 He noted that the large wooden barriers could cause hazard to automobiles that accidentally struck them. Scanlon's safety marker, granted a patent in 1943, was designed to return to an upright position when struck by a glancing blow.
Advantages of Scanlon's rubber safety markers were higher visibility, resilience when struck, ease of deployment and ability to be stacked for storage. But even some 80 years after Scanlon's patent, there was still room for improvement, especially in the area of public safety, where traffic cones are deployed to create a protected workspace for emergency personnel responding to roadway or roadside incidents.
The important role traffic cones play in public safety
According to the Emergency Responder Safety Institute, 11 fire and EMS workers were struck and killed by vehicles while working roadway incidents in 2022. Law enforcement officers, tow operators, road service technicians and transportation workers accounted for an additional 39 fatalities.
While there is an entire genre of materials dedicated to educating the public to "move over and slow down" when emergency personnel (and road workers) are present, inattentive or speeding drivers and lack of visibility still contribute to accidents and fatalities. Just ask Rachel Carcell, a captain in the Geneva-on-the-Lake Fire Department in Ohio.
The population of the town on the shores of Lake Erie, dubbed "Ohio's first summer resort," balloons in summer with tourists and a motorcycle rally.
When an accident occurs, it's likely at least one of the town's narrow two lanes of travel needs to be channelized to make the scene safer for EMS responders working with patients, says Carcell. "But people don't always pay attention, which means you have to pay more attention to yourself."
EMS workers need to be able to focus on the patient – not on roadway safety – which is why they deserve every tool at their disposal to get drivers' attention and make roadway emergency scenes more visible.
This is where traffic cones come back into the story.
Rubber traffic cones are great, but…
Traffic channelizing devices are critical to making a safe space for emergency personnel to respond to a roadway incident.
While the ubiquitous rubber traffic cone is a vast improvement over the wooden barricade, the same challenges Scanlon's design partially overcame with respect to wooden barriers – portability, resilience, visibility and storage space – still persist, especially in emergency response operations.
A key shortcoming for emergency responders is the amount of room a stack of cones takes up in an already-cramped ambulance or apparatus. They also are heavy and cumbersome to deploy when you have a whole stack of them, especially because sometimes they stick together, says Carcell.
Another shortcoming with traditional rubber cones is the cost of replacement. While rubber cones can pop back upright after a glancing blow, a direct hit renders them unusable and unrepairable. Just look at any highway construction zone and you're likely to see at least one fallen, mangled cone.
Traffic cones are essential for emergency responder safety, so replacing them (despite unexpected and unwelcome costs) is important.
Building a better traffic safety cone
The old saying, "Build a better mousetrap and the world will beat a path to your door," speaks to both the power of innovation and the challenge of improving on an existing product widely in use.
PSS, an Ohio-based company whose mission is to make travel safer, took on the mousetrap challenge of improving the safety marker with a new design.
"The design was actually conceived by a Florida law enforcement officer," explained David McKee, director of marketing and government relations for PSS. "He found a new way to store cones in his vehicle that would be quick to deploy as well as trunk friendly where you could actually carry them without sacrificing a lot of space."
PSS worked with the officer for over two years to fine-tune the FirstGard foldable traffic safety cone. The resulting product solves some of the annoyances inherent in rubber traffic cones – like bulkiness and irreparability – while improving emergency scene visibility.
At 34 inches in diameter and a height of 28.75 inches, FirstGard's tripod-shaped design has a larger footprint than traditional cones. This not only commands more conspicuous road surface area, but the vivid, safety-orange base along with highly- reflective white bands – made with industry-leading 3M retroreflective sheeting – enhances visibility in a range of lighting conditions day and night.
FirstGard is the first cone on the market with a large amount of space dedicated to reflective white bands, a U.S. Department of Transportation requirement to increase night-time visibility.
Despite its larger footprint and larger surface area for 3M reflective sheeting, FirstGard is both lightweight and durable.
Folding down to just 1 ½ inches in thickness, FirstGard cones use minimal storage space. A carrying bag holds five FirstGard cones for easy storage and deployment.
Another design improvement (and improvement for department budgets) is that the connecting hinge and pins are replaceable components. With a simple repair kit, FirstGard can be repaired if damaged, getting cones back in service quickly while saving money for cash-strapped departments.
Putting FirstGard to the test
Geneva-on-the-Lake FD was one of the first agencies to start using FirstGard cones.
"They were so easy to use," said Carcell. "You pull them out, unfold them, set them down and go to the next one. Pick up is also very easy. Just pick it up, fold it and stick it in the bag and it's done."
Watch Carcell and others deploy FirstGard cones:
Another advantage is that the tripod design can serve a dual purpose: to protect emergency response crews and extend protection to water supply lines – another frequent casualty of inattentive or aggressive drivers.
Emergency responders need effective but easy-to-deploy tools that take away the often-difficult task of gaining a driver's attention so they can focus on providing care and recovery, clearing highway scenes quickly and getting traffic moving again. FirstGard is a valuable tool for doing just that, while keeping responders safe on the scene.
For more information on FirstGard and other traffic channelizing solutions, visit PSS.

Request information from PSS
Thank You!