Better firefighter respiratory protection – and it's not a better SCBA
MagneGrip's new PRO Nozzle diesel exhaust source capture system streamlines the extraction hose connection process
---
When we think of protection for a firefighter's respiratory system, we gravitate to protecting firefighters and officers from the chemicals, chemical compounds, and carcinogens present in the smoke they encounter when suppressing structure fires – and with good reason. The body of knowledge in this area continues to grow, further solidifying the many hazards that firefighters face on a regular basis.
But, even in the busiest fire departments, the frequency of those exposures from interior structural firefighting pale in comparison to a more frequent source found right in the fire station. I'm referring to a firefighter's risk to their respiratory system from the diesel emissions (DE) and diesel particulate matter (DPM) present in the exhaust from the diesel engine every time they mount their fire apparatus and leave the station.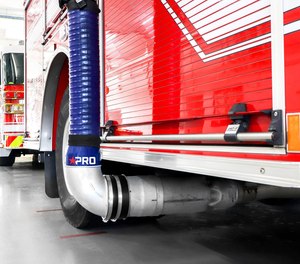 The exhaust from diesel engines contains a mixture of gases and exceedingly small particles that create a health hazard when not properly controlled. The World Health Organization (WHO) first designated diesel exhaust emissions as a carcinogen in 1998 based on the presence of nitrogen oxide (NO) and nitrogen dioxide (NO2). And beginning in 1994, the U.S. Environmental Protection Agency (EPA) began tightening emission limits for diesel engine exhaust, and original equipment manufacturers (OEMs) were forced to get on board. But that certainly didn't eliminate all harmful emissions.
Enter exhaust source capture systems.
Capturing DE and DPM before they reach firefighters
An exhaust source capture consists of a collection hose that's attached to the exhaust pipe on fire apparatus that uses a high-powered fan to draw DE and DPM through the hose for discharge to the outside atmosphere. In "Safety and Health Considerations for the Design of Fire and Emergency Medical Systems Stations," a report published by the U.S. Fire Administration, the authors stated: "exhaust source capture is considered the most reliable means to reduce or eliminate exposure of fire station occupants to diesel exhaust emissions."
Now, NFPA 1500: Standard on Fire Department Occupational Safety, Health and Wellness Program (Chapter 10) requires fire department use of such systems: "The fire department shall prevent exposure to fire fighters and contamination of living and sleeping areas from exhaust emissions through the use of direct or source capture systems." Further, the International Mechanical Code also addresses the need for fire departments to invest in a diesel exhaust source capture system that connects directly to the motor vehicle exhaust system: "Areas in which stationary motor vehicles are operated shall be provided with source capture system that connects directly to the motor vehicle exhaust systems. Such systems shall be engineered by a registered design professional or shall be factory-built equipment designed and sized for the purpose."
The newest generation of these systems include an automatic disconnect nozzle that allows vehicles to drive into and out of the fire station with the hoses still attached to the exhaust system; the hose disconnects from the vehicle and retracts into the building allowing automatic doors to close. Additional features include using an in-line pressure switch that activates the system when the apparatus engine is started or when apparatus bay doors open, plus timers to run the system until all DE and DPM have been removed from the system, eliminating any backflow from the hose to enter the fire stations.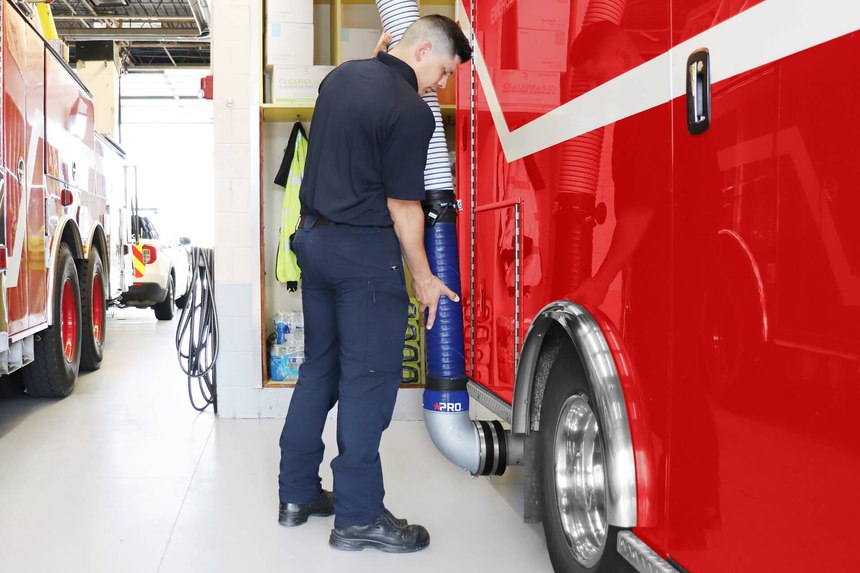 MagneGrip PRO Nozzle features
MagneGrip is working to level up the exhaust capture game. The original MagneGrip introduced a patented technology – a rare-earth magnet assembly – for diesel exhaust source capture systems. That magnetic assembly has been repositioned in the redesigned nozzle called MagneGrip PRO. MagneGrip's new PRO Nozzle seeks to eliminate the #1 barrier that inhibits 100% system usage: difficulty connecting the extraction hose. The PRO Nozzle includes several features that aid in firefighter use:
An exhaust tailpipe adapter that can be mounted flush to vehicle body, with no protrusions.
An extraction hose that pulls down to connect to the apparatus for a more effective connection, which keeps the nozzle off the floor when not in use (this reduces wear and tear).
A stainless-steel heat shield, along with air flow through the magnet assembly, which separates and protects the magnets from heat and particulate, thereby extending magnet life.
Compatibility with different diameter exhaust hoses (4 to 6 inches) to accommodate any system design criteria.
A durable 90-degree cast aluminum transition elbow that dissipates heat faster and does not rust like other designs. The transition elbow also provides more room for personnel to maneuver around and between vehicles, making it a real plus for fire stations with tight and shallow spaces.
An exhaust tailpipe adapter that ensures maximum ambient air induction to dissipate heat faster and cool the system, which reduces the risk of a burn and extends the life of the system.
The smallest standard exhaust pipe adapter in the industry for greater ground clearance.
A positive pressure check valve that adheres to mechanical codes and agency recommendations, ensuring a 100% seal with zero leaks.
What really sets the PRO Nozzle apart from other systems is this: From any approach angle, it's only necessary to bring the connection close to the exhaust tailpipe adapter and the magnets do the rest.
Grant assistance is available - AFG NOW OPEN!!
The Assistance to Firefighters Grant (AFG) officially opened on January 9, 2023. The application submission deadline is February 10, 2023. The time is now to get assistance with AFG. Contact MagneGrip today for free assistance for Exhaust Removal Systems.
Need some help getting the funds to purchase the PRO Nozzle for your organization? Contact MagneGrip for help finding grants for diesel exhaust source capture systems. They stand ready to help with training for the grant writing process and application or optional grant writing services with a 50% discount. The grant team at MagneGrip will maintain contact with your department until a suitable grant is found.

Request information from MagneGrip
Thank You!