Dangerous diesel: Managing health risks related to diesel exhaust emissions at the station
How firefighters can limit exposure to diesel exhaust emissions and diesel particulate matter
---
As the driver/operator for a piece of fire apparatus, you have a significant responsibility for not only your own safety but also that of your fellow firefighters and officers. This responsibility goes beyond keeping yourself and your members safe while driving the streets of your jurisdiction; you must also look out for the health and wellness at the station. That includes a focus on diesel exhaust emissions. In this article, we'll discuss several key concepts for reducing the risk that can result when diesel engine exhaust emissions are not appropriately managed.
Your No. 1 safety threat – the apparatus
The exhaust emissions from the diesel engine on your fire apparatus contain toxic particulates and gases. As the driver/operator, you must understand that it's your job to manage the diesel engine emissions from the apparatus to reduce the risk presented by those emissions, both in and out of the fire station.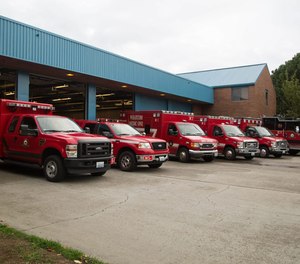 According to an OSHA hazard alert, diesel exhaust emissions (DE), when not properly controlled, present several health hazards for firefighters:
Diesel engine exhaust contains unburned hydrocarbons (HC), carbon monoxide (CO) and nitrogen oxides (NOx).
Diesel exhaust also contains diesel particulate matter (DPM), a component of diesel exhaust that includes soot particles made up primarily of carbon, ash, metallic abrasion particles, sulfates and silicates.
The report further states, "Diesel soot particles have a solid core consisting of elemental carbon, with other substances attached to the surface, including organic carbon compounds known as polycyclic aromatic hydrocarbons (PAHs)."
According to OSHA, short-term exposure to high concentrations of DE or DPM can cause headaches, dizziness and irritation of the eye, nose and throat severe enough to distract or disable both firefighters and civilians. Further, prolonged exposure to DE or DPM can increase the risk of cardiovascular, cardiopulmonary and respiratory disease, and lung cancer. In June 2012, the International Agency for Cancer Research (IARC) classified diesel engine exhaust emissions, including DPM, as a known human carcinogen.
Impact of diesel engine exhaust in fire stations
Diesel engine exhaust in fire stations has garnered significant attention in recent years.
In 2017, Jessica Li and Gregory Burr conducted a NIOSH Health Hazard Evaluation (HHE) to evaluate two fire stations. This was conducted after the HHE program received a request from the chief at a fire department with two stations. The chief was concerned about firefighters' exposure to diesel exhaust in the living quarters of the fire stations built between 1992 and 1999.
Station #1 housed one fire engine, one rescue, one tower, one medic unit and one gasoline-powered truck. Station #2 housed one fire engine and one medic unit.
There were three sets of EPA emissions standards that were applicable for the diesel-powered fire apparatus, depending upon the year of manufacture for the fire apparatus.
Model Year 1974-2003
Model Year 2004-2006
Model Year 2007 and later
The researchers monitored particulate concentrations during the duty shift and used ventilation smoke tubes to monitor and observe the direction of airflow.
Their results revealed that more than 95% of diesel exhaust particulate is less than 1 micrometer in size and is respirable. Because of their small size, diesel exhaust particles can be inhaled deeply into the lungs and even into the bloodstream.
Additionally, the researchers discovered that by operating diesel engine-powered equipment in the apparatus bay, the exhaust appeared to flow into those fire station spaces beyond the apparatus bay (e.g., kitchen, dormitories, offices). To protect those spaces, and the well-being of all firefighters, fire apparatus operators must remember to use the installed station exhaust systems even when equipment is running in the apparatus bay.
The research also indicated that the firefighters involved in the study thought the vehicle exhaust system was only for the apparatus and did not include other equipment. However, running the small gasoline engines that power our equipment – like portable generators, hydraulic tool power plants and saws – also contribute to poor air quality in the fire station. The report noted that firefighters should only run that equipment outside the fire station and take steps to ensure that those exhaust fumes do not enter the building.
We must take the necessary steps to protect ourselves by using exhaust removal systems. The research results have proven that the use of exhaust systems reduces the risks of exposure. We must take responsibility for our health. We wouldn't go into a fire without our PPE, so why would we not use the equipment designed to reduce our exposure to diesel exhaust emissions?
Controlling exposures to DE and DPM
Engineering controls are the most effective strategy for minimizing worker exposure to DE or DPM, and a combination of controls is often required. For most fire departments, these engineering controls should include:
Performing routine preventive maintenance of diesel engines to minimize emissions. Well-maintained diesel engines produce significantly lower levels of DE and DPM.
Installing exhaust removal systems in the station.
NFPA 1500: Standard for Fire Department Occupational Safety, Health, and Wellness Program, Chapter 9, specifies that fire departments contain all vehicle exhaust emissions to a level of no less than 100% effective capture. This recommendation also complies with NIOSH's requirement to reduce emissions to the lowest feasible level to limit impact on firefighters' health. The standard states that direct-capture systems are the most effective means to reduce the risk and aid in compliance with NFPA 1500.
The International Building Code (IBC) recommends that departments invest in a diesel exhaust source capture system that connects directly to the motor vehicle exhaust system. The IBC-International Mechanical Code (IMC), 2015 edition, Section 502.14 states: "Areas in which stationary motor vehicles are operated shall be provided with a source capture system that connects directly to the motor vehicle exhaust systems. Such systems shall be engineered by a registered design professional or shall be factory-built equipment designed and sized for the purpose."
Your responsibility to eliminate DE and DPM at the station
When it comes to the diesel exhaust capture system in your fire station, your primary responsibility is to avoid being guilty of "operator error." You can do so by consistently doing the following:
Ensure that the exhaust capture system is used in accordance with the manufacturer's recommendations 100% of the time. No exceptions.
Inspect the hoses and connections at least daily, preferably following each use, in accordance with the manufacturer's recommendations.
Immediately take the system out of service when you find a problem, then report the problem to your supervisor, and complete the necessary steps required by your department to get the problem repaired.
Your station's exhaust capture system is NOT an optional system any more than your SCBA is an optional piece of equipment. Take care of them both equally.
[Learn more: How to buy exhaust removal systems]

Request product info from top Fire Exhaust Removal Systems companies
Thank You!