(eBook) How to build a fire station
Download this Fire Chief eBook to learn how to navigate the often complicated process of designing, funding and constructing a new fire station
---
To download your free copy of "(eBook) How to build a fire station" Buying Guide from Fire Chief, fill out this form.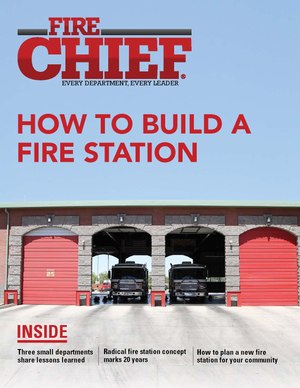 Nearly half of all fire stations in the U.S. are more than 40 years old. These older stations often lack appropriate living accommodations, vehicle parking, equipment storage, space for decon and training, and the internal infrastructure requirements for hi-speed communication tools.  
Sprinklers, wireless colorized alerting systems, dispatch computers, clean gear storage … it is clear that fire station construction has changed dramatically over the years. From the barn-doors of yesteryear that held back the horses, to the automated doors of today shielding million-dollar fire trucks, the needs of fire departments continue to outpace construction.
In this Fire Chief eBook you will learn:
How to plan a new fire station in your community
The four strategies to get the most from limited funds for fire station design and construction
The number one issue in building a fire station
Lessons learned from three departments' efforts to plan for, fund and complete construction on fire stations
The radical concept of building a fire station in an Ohio shopping mall in the late 1990s
To download your free copy of the "How to build a fire station" eBook from Fire Chief fill out this form.