More than the tailpipe: Locating firehouse toxins
The complexity of firefighter health exposures requires mitigation solutions beyond the fireground
---
Sponsored by MagneGrip
By Sara Jahnke, Ph.D. for FireRescue1 BrandFocus
There is often an underestimation of just how bad diesel exhaust is for health in general, and for firefighters specifically. Diesel exhaust is made of particulates and ultrafine particulates of polycyclic aromatic hydrocarbons (PAHs), nitro-PAHs, sulfates, nitrates and metals.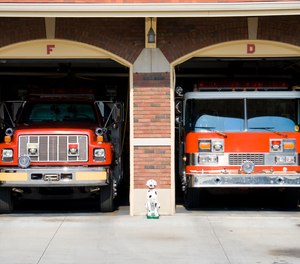 "Diesel exhaust poses a cancer risk greater than any other air pollutant, as well as causing other short- and long-term health problems," according to Dr. H.E. Wichmann, Institute of Epidemiology, in a key toxicology study.
Scientific literature on diesel exhaust particles has documented increased risks from the smallest amount of exhaust present in air pollution. Both animal and human studies suggest that diesel exhaust has a cardiovascular impact through altering blood pressure, heart rate and other functions.
Even more alarming, a study by Young and colleagues found elevated levels of endocrine-disrupting PFAS chemicals in turnout gear locker rooms and living areas. While debate continues about which contaminants embed in gear and how stable they are, data suggests that gear off-gasses post incident in the bay. Other activities in the bay, such as working with extraction tools, can also contribute to ambient contaminants.
The focus of firefighter health exposure mitigation clearly needs to extend beyond the fireground to the risks of the environments the firefighters live in every day. Firehouse exposures are multifaceted, which is why solutions need to be as well. The chronic, low-dose exposures that occur within the firehouse likely play a significant role in the increased cancer, cardiovascular and respiratory risks firefighters face and should prompt agencies to explore contaminant mitigation strategies, such as the MagneGrip Exhaust Removal System.
THE ROLE OF SOURCE CAPTURE
It's not surprising that diesel exhaust takes center stage as a toxin of concern in the firehouse.
Source capture exhaust removal systems attach directly to the tailpipe of the apparatus. These devices prevent exposures to diesel exhaust in the bay and are one of the most well recognized tools for limiting firefighter cancer risks. By capturing and removing the chemicals as they leave the exhaust pipe, they provide a strong tool for mitigation.
Surprisingly, not all fire departments – even those building new fire stations – take advantage of this strategy to reduce known firefighter health risks. Those relying on onboard filters in new trucks to address diesel toxins are missing protection. The smaller particulates are invisible, but respirable, meaning they can enter the lungs – where they stick.
"There's still contaminant coming out of that exhaust, because the diesel particulate filter is designed to meet U.S. Environmental Protection Agency standards for outdoor air, not Occupational Safety and Health Administration's health and safety standards for indoor environments," said Jack Rossman, product expert at MagneGrip.
AIR CLEANING IN BAYS AND BEYOND
New firehouses are increasingly being built to facilitate creating the healthiest facility possible. Building stations that have clean and dirty areas are becoming more the norm. While the innovations in station design are encouraging and should continue, decreasing exposure by replacing stations will be a time-consuming and expensive endeavor. Finding solutions for existing stations is a pressing need.
Ambient air filtration systems that are mounted at the ceiling of the bay or on the wall of high-risk areas (e.g. where gear is stored), like MagneGrip's AirHAWK purification systems, are increasingly being used to improve air quality. These systems, when used in conjunction with source capture devices, remove exhaust that is not captured by source capture systems as well as the contaminant generated in the fire station.
Using an AFG grant, Talladega Fire Department installed MagneGrip Exhaust Removal Systems and AirHAWK Air Purification Systems in two existing stations. The MagneGrip Exhaust Removal Systems were Sliding Flexhose Track Systems (SFTs) that are "no loop" systems that fit in tigher spaces and offer less obstruction. The AirHAWK systems were installed with ECM motors, which continuously purify the air by removing harmful gases and particulates 24 hours a day. During non-emergency situations, the motor fan runs at a lower, quieter speed. Then during an emergency run, air changes increase to handle the heavier load of diesel exhaust expelled from exiting apparatus.
The AirHAWK 3000 addresses particulates and fumes through a four-step filtering process. Following two levels of particulate collection (down to .3 micron), a gas phase filter captures volatile organic compounds in small particulates. In addition, AirHawk provides the only photocatalytic oxidation filter composed of UV light and a titanium grid for the fire service industry, which addresses fumes and germs and bacteria. A specialized charcoal filter then collects formaldehyde and other toxins.
This multiple-filter approach captures particulate, fumes and other contaminants that are ambient in the firehouse.
"You're going to have the off-gassing from the turnout gear. You're going to have the exhaust fumes from small engine startup. You're going to have the exhaust fume from blow-back exhaust as the vehicles leave the station. You're going to have just general dirt and dust from the outside or any other work activity that they perform inside the bay area," said Rossman, "and air purification addresses all of that." 
The AirHawk is an automated system and requires no fire personnel intervention. This means decreased risk of user error. The system can be triggered on in a variety of ways, such as through electronic eyes at the bay doors, gas sensors or transmitters on the truck that activate the system when the engine starts. Some systems also can be run at low speed 24 hours a day, continually providing particulate collection and germicidal protection in the bay area, and switch to high speed when triggered by apparatus or other inputs.
OLDER STATIONS AND VULNERABLE LIVING QUARTERS
Existing fire stations are particularly vulnerable to contamination leaking into the living areas, said Rossman.
"In new construction projects, that's not much of a worry, because engineers are supposed to make sure that the firehouse apparatus bay is under a negative pressure," he said, "which means if you open up a door to the living quarters, air is not flowing in. It's flowing out into the bay area."
HVAC systems in older buildings were not necessarily designed with positive and negative pressures in mind.
MagneGrip's air purification solutions can be added to high-exposure areas that adjoin the bay such as gear rooms, living and sleeping quarters and recreational areas. They also offer portable units to address chronic health exposures wherever and whenever needed.
Visit MagneGrip for more information.
Watch Next: Mich. FD talks about installation of MagneGrip Exhaust Removal and AirHAWK Air Purification Systems

Request information from MagneGrip
Thank You!