PRESS RELEASE
KME Recent Deliveries - Etna, NY
---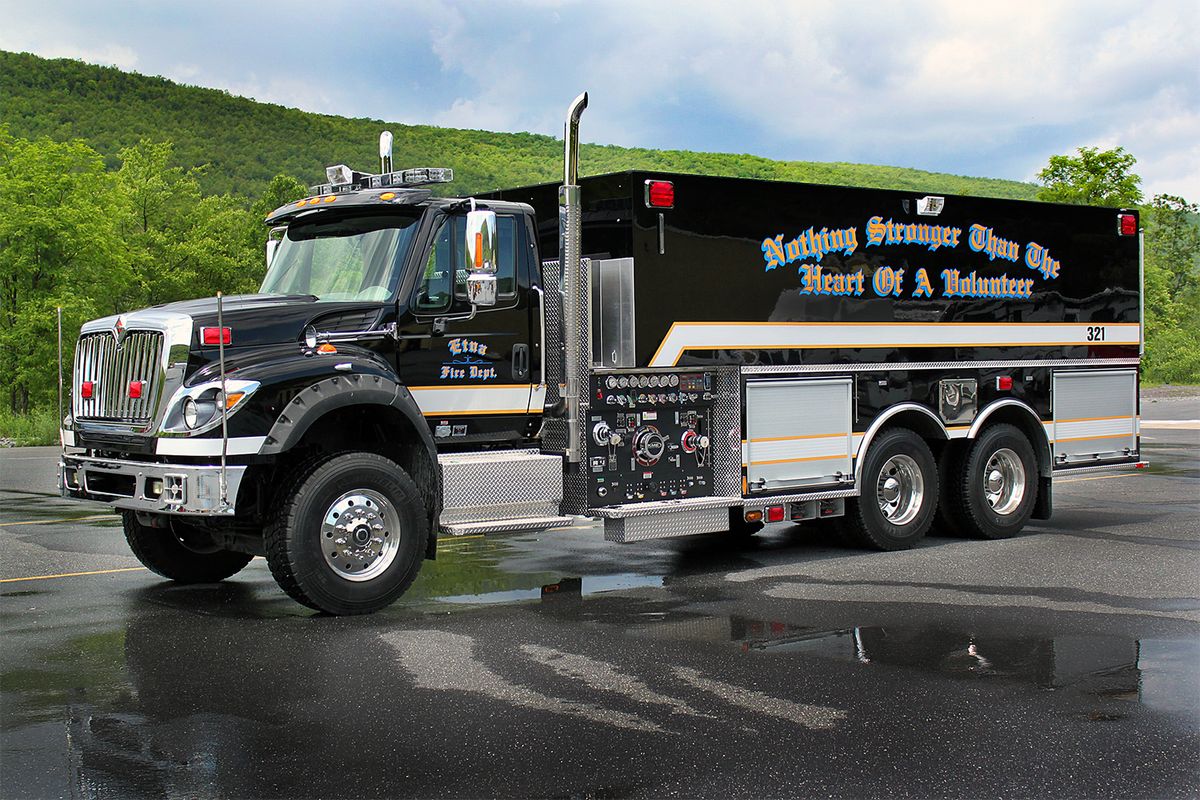 GSO
8835
Department Name
Etna NY Fire Department
City/State
Etna,NY
Selling Price
 
Dealer
Gorman Emergency Vehicle Sales & Service, Elma, NY
Dealer Information
716-675-3859 (Tim Hoegel)
Sales Engineer
Mark P. Higgins
Type
Commercial Pumper
 
CHASSIS - 
 
Chassis Type/Make/Model
International 7600 TA SBA 6x4
Door/Raised Roof
2 Door
Seating for…
3
Front Bumper/options
 
Other
Custom dual chrome vertical exhaust stacks.
 
DRIVETRAIN
    
Engine-Make/Model/HP
MF13 475 HP Engine
Transmission
Allison EVS 5 Speed Automatic Transmission
 
PUMP & TANK
 
Pump/Manufacturer/Model/GPM
Hale DSD-150, 1500 GPM Single Stage Pump
Intakes
Driver Side: 6" W/Electric MIV & 2 1/2" : Officer Side: " W/Electric MIV
Discharges
Driver Side: (1) 2 1/2", Officer Side: (1) 4" & (1) 2 1/2". Rear: (1) 2 1/2" DS, Other (2) 1 3/4" Crosslays, (1) 1 1/2" DS Well
Pump Panel
Side mount, 1/8" black clad aluminum
Water Tank-Manufacturer/Model/Capacity
3000 Gallon Poly Tank
Foam Cell Size
N/A
Foam System-Make/Model/Capacity
N/A
Booster Reel/Discharge
N/A
Dumps
10" Square Rear Newton Dump, 10" Square w/ 18" electric telescoping Side Newton Dumps (1 each side)
Extra Fills
Extra Fill at Drivers Side Rear
Other
 
 
BODY
 
Body/Material Type
213" Eliminator Flat Back Body Constructed of 3/16" Aluminum
Storage Space Capacity (total cubic foot)
114
Hosebed Covers
Yes
Access Ladders
N/A
Ladder Storage
Full complement, Driver side, Under-T
Suction Storage
Three (3) 15' sections of six (6) inch Maxi-Flex suction hose, Officer side, Under-T
Roof Storage Compartments
N/A
Cascade System
N/A
Winch
N/A
Compartmentation
Low Side Compartmentation
Drawers/Tool Racks
N/A
Hosebed 
(1) One Hosebed Divider  12" Deep 
 
ELECTRICAL
 
Electrical System
International® Diamond Logic® Electrical System
Warning Lights
Whelen
Light Tower-Manufacturer/Model/Capacity
N/A
Generator-Manufacturer/Capacity in kW
N/A
 
 
DIMENSIONS
 
Overall Height
139" (11' 6")
Overall Length (feet/inches)
396" (33')
Wheelbase
234"
Visit KME for more information