PRESS RELEASE
MagneGrip to showcase its latest cancer-preventing technology at FDIC 2023
---
INDIANAPOLIS, Ind. - MagneGrip's exhaust removal and air filtration systems are the easiest way to protect your fire station. When it comes to eliminating firefighters' exposure to cancer causing toxins from diesel exhaust fumes, 'almost,' 'nearly,' and 'virtually' aren't good enough.
Since 2002, cancer has caused 66% of career firefighter deaths. Diesel exhaust in firehouses has been and continues to be a problem for many firefighters. If not properly captured, diesel exhaust fumes will not only enter the apparatus bay, but also the firefighters' living quarters. As a result, firefighters are exposed to diesel exhaust fumes for a significant portion of their shifts. And because diesel exhaust is a well-known carcinogen, scientific evidence has linked this exposure directly to lung cancer.
The combination of the MagneGrip Exhaust Removal and AirHAWK Air Purification Systems are the most complete protection you can get in eliminating 100% of all cancer-causing toxins from within the fire station.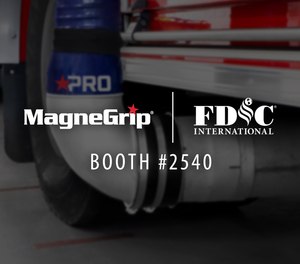 MagneGrip's PRO nozzle with patented, Flex-Magnet Technology is the safest, easiest system to use:
Includes:
Flex-Magnet attached and detaches in a snap – from a standing position
Guaranteed auto-disconnect (no additional safety disconnect needed)
Smallest standard tailpipe adapter for max ground clearance
Fits tight to the apparatus saving more space around the apparatus
True 100% seal from diesel exhaust fumes
Visit MagneGrip's booth at FDIC from April 24-29, Booth #2540
MagneGrip will be raffling off a few big surprises!
Sign up for FREE Grant Assistance for MagneGrip products
About MagneGrip
MagneGrip, based in Cincinnati, Ohio, is committed to firefighter health and safety with over 40 years of experience in the air cleaning industry. MagneGrip is ISO 9001:2015 certified, proudly owned and operated by Midwest Ohioans, and manufactured and assembled in the USA.
To learn more about the grant application process and what MagneGrip can do to help protect your station against diesel exhaust fumes, visit MagneGrip.com or call 800-875-5440.

Request more info from MagneGrip
Thank You!