PRESS RELEASE
MEDLITE and FIRELITE Transport Skids Fit New Gravely Atlas JSV
---
ORLEANS, VT;—In its recent expansion into side-by-side utility vehicles, Wisconsin-based Gravely®, an Ariens Company brand, has introduced the 2015 Gravely Atlas, a heavy-duty jobsite UTV that readily accommodates the KIMTEK® MEDLITE® and FIRELITE® transport skid units. The new Atlas JSV 3000 and JSV 6000 crew gas and diesel models each have a cargo bed capacity of 1250 pounds, easily supporting any of the nine UTV transport skid units KIMTEK currently offers for off-road fire and rescue operations.
Effective combination 
With modular, slide-in design and adaptability, KIMTEK's skid units install into Atlas JSVs in just minutes. Their included tie-down system attaches simply and quickly to the Atlas integrated tie-downs already located in the UTV cargo bed. With room for an attendant and a patient in the MEDLITE units, and the ability to carry up to 85 gallons of water plus a patient in the FIRELITE units, the Atlas JSV-KIMTEK combinations offer first responders in police, fire, and EMS agencies powerful tools for off-road fire and rescue, wildland search and rescue, large event response, lifeguard operations, industrial fire and medical response, and several other field applications.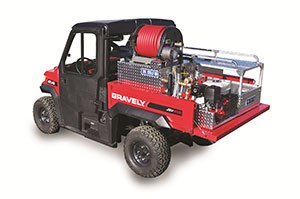 More information about KIMTEK's full line of MEDLITE and FIRELITE transport skid units may be found at www.kimtekresearch.com. More information about Gravely Atlas JSV models is available at www.gravely.com. 
About KIMTEK Corporation
KIMTEK is the largest producer and marketer of ATV/UTV/Compact pickup truck-specific skid units for public safety agencies in the U.S. Custom designed for off-road emergency service vehicles, KIMTEK's slide-in fire and rescue skid units and MEDLITE medical skid units are now in service in all fifty states, the Department of the Interior, the National Park Service, and the U.S. Forest Service, as well as with U.S. Embassies, the Department of Defense, and all branches of the U.S. Military. A certified GSA contractor, KIMTEK transport skid units are also widely used in first response for large industrial plants, mining operations, and for seashore, sports stadium, racetrack, and other recreational venues. 
KIMTEK Corporation was founded in 1984 as a research and development company dedicated to advances in life safety technology in the fire sciences. For more information, please contact KIMTEK at 888-546-8358 or visit the company's website at www.kimtekresearch.com.