PRESS RELEASE
NY Fire Department Adds Plymovent Vehicle Exhaust Removal System to Improve Firefighter and EMT Health
---
Cranbury, NJ – The North Tonawanda Fire Department replaced their existing exhaust removal system with the Plymovent award-winning Magnetic Grabber® in all their stations. Situated near the Niagra River and Erie Canal, the North Tonawanda Fire Department needed an exhaust removal system that would withstand the harsh weather conditions of Western New York. Therefore, the durability and effectiveness of the product was very important to Chief Lapham. Since installing the Plymovent at-source exhaust removal systems, Lapham says "We can tell in the daily cleaning duties as there is no soot build up. It has made for a healthier work environment for all our personnel."
The North Tonawanda Fire Department serves a population greater than 30,000 with 10,000 homes and has multiple stations as well as specialty teams, all of which are now equipped with Plymovent code-compliant exhaust removal systems. Benefits include but are not limited to: a healthier work environment where exposure to hazardous exhaust fumes has been significantly reduced; a cleaner work environment in the stations for both personnel and gear; and the convenience of the easy-to-use system connection.
For more information please contact info.usa@plymovent.com or 800-644-0911.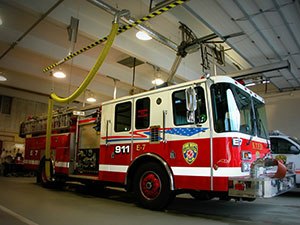 About Plymovent
Plymovent cares about the air you breathe. We offer products, systems and services which ensure clean air at work, anywhere in the world. We respect the environment and we deliver high-quality products. Our expertise gained over many years and our genuine commitment to customer requirements enable us to provide precisely the solutions you need.
For more information please contact us at www.plymovent.com/us/home.aspx.

Request more info from Plymovent
Thank You!