PRESS RELEASE
Seats Incorporated purchases Iowa facility
---
Seats Incorporated adds manufacturing capacity with additional facility.
REEDSBURG, Wis. — Seats Incorporated is pleased to announce the addition of our Chariton, Iowa, facility.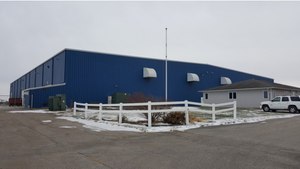 The acquired facility provides additional manufacturing square footage to support our continued growth. The 54,772 square foot facility will produce metal fabricated goods that will be used in final products at both our Reedsburg and Spring Hill facilities.
"We look forward to setting up our operations and settling in as members of the Chariton area," Dan Engebretson, plant manager, said of the move.
For more information about Seats, visit www.seatsinc.com to learn more.
About Seats Incorporated
Seats Incorporated is a Wisconsin corporation that designs, manufactures and markets seating and accessories for vehicles with wheels or tracks. Founded in 1952, Seats Incorporated is now one of the most diverse seating manufacturers in the nation, with products that are used in a wide variety of applications including: over-the-highway semi-tractors, off-highway equipment, railroad vehicles, military vehicles and emergency vehicles. The company also manufactures low speed electrical vehicles for a related company, Columbia Vehicle Group, Inc. Seats Incorporated is headquartered in Reedsburg, WI and is a member of the Nordic Group of Companies. For more information, visit www.seatsinc.com.
Request more info from 911 Seats Incorporated
Thank You!