PRESS RELEASE
Intec Video Systems Will Improve Safety and Visibility for Emergency Response Vehicles
---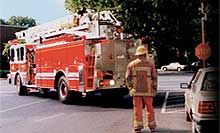 Intec's Car Vision systems for emergency vehicles offer high resolution images and a wide field-of-view to eliminate the blind spot behind the vehicle, facilitate backing, and reduce accidents. Free your spotter and let the driver see for himself.
Intec manufactures the most heavy-duty camera available, guaranteed for up to 8 years. The XL camera line features multiple internal seals on the camera and connector, eliminating moisture intrusion. The optional chrome finish looks great on any apparatus.
Intec also provides multi-camera systems, providing an exterior rear view for safe backing and maneuvering, while a second camera inside monitors the inside of an ambulance to make sure personnel are safe.
For more information and a complete listing of Intec Video Systems' products visit www.intecvideo.com.