PRESS RELEASE
LifeGuard Technologies Partners with Horton to Unveil Ambulance Equipped with Side Roll Protection
---
end picture
LifeGuard Technologies partners with Horton to unveil ambulance equipped with side roll protection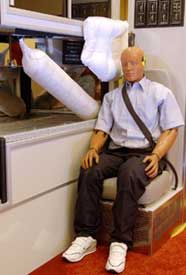 Indianapolis, Ind.– Today at the FDIC show in Indianapolis, LifeGuard Technologies, a division of IMMI®, announced the availability of its RollTek® side roll protection customized for Horton Emergency Vehicles ambulances and introduced as part of the company's new Horton Occupant Protection System (HOPS).

LifeGuard Technologies, the leading provider of custom safety systems for commercial vehicles, partnered with Horton to design, test and integrate side roll protection into its ambulance compartment. Rollover testing was conducted at the Center for Advanced Product Evaluation (CAPE®), a modern crash-test facility on the campus of IMMI.

James Johnson, LifeGuard director of sales, applauds Horton for taking a leadership position in bringing this technology to the industry.

"Horton has invested significantly to make side roll protection available in ambulance interiors and is redefining the safety expectations of first responders by moving forward with this safety integration," Johnson said.
Dave Lamon, Horton vice president of marketing and sales, explained the company's motivation for integrating side roll protection into HOPS. 
"With the assistance of LifeGuard Technologies, we've made one of the safest ambulance designs in the industry even safer," said Lamon. "Our design features are focused on improving the safety of the patient compartment, and side roll protection in Horton ambulances helps reduce the threat of a fatal injury if a rollover occurs."
LifeGuard Technologies engineers work with original equipment manufacturers to design, test and integrate side roll protection on commercial vehicles. The company's side roll protection systems combine airbag protection with the latest advancements in seat belt technology to reduce the potential for death or serious injury in a rollover. Branded RollTek, these systems have been customized for diverse industries, available on heavy trucks and concrete mixers, as well as in the fire industry, where RollTek is available on eight out of nine custom fire apparatus. 
LifeGuard offers an Emergency Response Guide (ERG), a familiarization and training manual for owners and operators of vehicles equipped with RollTek and 4Front, a frontal airbag system.  This booklet serves as a guide for first responders who may be required to deal with these vehicles under emergency circumstances.  For more information, call LifeGuard Technologies at 866.765.5835. 
About LifeGuard Technologies
The LifeGuard Technologies division of IMMI, based in Westfield, Ind., is making the job safer with seat belt systems and advanced occupant protection products tailored for highway vehicles and off-highway equipment. Utilizing a modern crash-test facility, sophisticated engineering and advanced manufacturing operations, LifeGuard develops and supplies innovative, proven restraint systems and airbag protection for customers worldwide.  The Center for Advanced Product Evaluation (CAPE) located on the campus of IMMI in Westfield, Indiana, conducts fire apparatus crash tests, rollover tests and cab integrity tests, as well as offering analysis services to the fire apparatus industry.
IMMI is a privately held, international company that tests to U.S., European and Australian standards and is ISO 9001:2000 certified. For more information, visit lifeguardtechnologies.com.