Wash. fire district eyes transport license for low acuity calls
Grant County Fire District 7 aims to improve patient care by providing quicker transports for injuries that are not life-threatening
---
Charles H. Featherstone
Columbia Basin Herald, Moses Lake, Wash.
SOAP LAKE, Wash. — If you need an ambulance in Soap Lake, you could end up waiting a bit.
Especially if the county's transport company, American Medical Response Inc. (AMR), is having a busy day.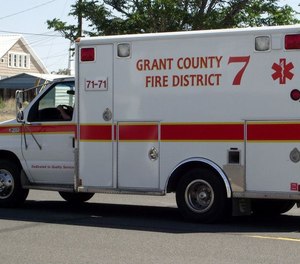 "AMR happens to be in Moses Lake, and it's 25 minutes to get here," said Grant County Fire District 7 Chief Kirk Sheppard. "If I have a patient here in Soap Lake, and I have a hospital seven minutes away (in Ephrata), we have to wait for that ambulance to come and pick them up."
Because state law limits transportation of patients by ambulance to licensed transport agencies in non-emergency situations, Sheppard said GCFD 7 is looking at becoming certified as a transport agency to make life a little easier for Soap Lake-area residents.
The restriction does not apply in life-threatening situations, Sheppard said, and GCFD 7 has two ambulances — one it is planning to retire soon — just in case.
"It's about patient care. If there is undue harm by the delay, we can, by law, pick up and put someone in our ambulance without asking permission," he said.
But if it's a matter of more ordinary transport — someone calls and they are sick, or have an injury that isn't life-threatening, Sheppard said GCFD 7's EMTs can respond and treat someone on the scene, but then must wait for an AMR ambulance to arrive from either Ephrata or Moses Lake.
"We can administer oxygen, take vitals, put collars on them when they're in car wrecks, so when the ambulance comes, they can do the grab and go," he said.
According to Katie Pope, a spokesperson for the Washington State Department of Health, a fire district interested in becoming a transport agency must first demonstrate a need for ambulance service, show it has adequate equipment and personnel, and receive recommendations from local and regional officials who oversee emergency medical services and trauma care.
"In general, we estimate that the average length of time to complete the process is between 30 — 180 days," she wrote in an email to the Columbia Basin Herald.
Sheppard said the process is fairly complex and would cost GCFD 7 around $50,000, money the fire district currently doesn't have. But he added they are still considering the move to have the option just in case someone in Soap Lake really needs to get to the hospital.
"For me, it's a patient care issue," he said. "We want to give the public the best possible care we can give them."
___
(c)2021 the Columbia Basin Herald, Wash.
McClatchy-Tribune News Service