PRESS RELEASE
Leader Emergency Vehicles celebrates 45 years serving Calif. fire and EMS community
---
Gary DeCosse has been appointed as the organization's general manager.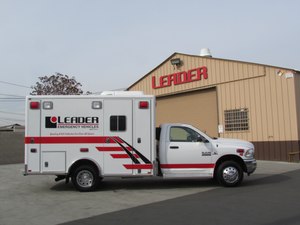 SOUTH EL MONTE, Calif. — Leader Emergency Vehicles (LEV), part of REV Group and a manufacturer of premium fit and finish Type I, Type II and Type III ambulances, is celebrating its 45th year serving the cities and communities in Los Angeles (L.A.) county and throughout California and has appointed Gary DeCosse as the organization's General Manager.
Rooted in Southern California
An established California company, Leader began its production of emergency vehicles in South El Monte in 1975. As of today, 95% of Leader's customers are California public and private departments; and 60% of these are in L.A. County. Leader designs vehicles for the California market, informed by years of collaboration and feedback from the California Fire and EMS community. That tradition of customer engagement includes design reviews, maintenance seminars and product evaluations. 
Leader's focus is on quality design and materials which ensure long-lasting, easy to maintain emergency vehicles. Materials are locally sourced from over 100 suppliers based in L.A. County, suppliers with which Leader has long-standing partnerships and represent hundreds of jobs in the community. 
Leader's facility spans 100,000 square feet on a two-acre campus, which includes a complete chassis modification and fab shop, ambulance body repair as well as remounting and reconditioning services. A team of over 100 employees, many who have been with the company over 30 years, help to design, craft, and deliver the vehicles, as well as service and remount older vehicles so they can continue to serve the needs of their communities.
Enduring Leadership
In shaping the plans for Leader's future, REV Ambulance Group recently promoted Gary DeCosse from Director of Operations to General Manager. A veteran of the ambulance industry, Gary began his career at Road Rescue, also a subsidiary of REV Group. Gary had graduated with a fine arts degree and Road Rescue was hiring artists to assemble their ambulance interiors. Following this role, Gary held several positions at the company as Engineering Supervisor, Research and Development Specialist and Sales and Marketing Coordinator. He moved to Los Angeles and joined Leader as the Operations Manager in 2006. Gary was mentored by Leader's founder Gary Hunter, who started the business with one other employee, hand-crafting van Type II's and modular Type III's.
"Leader has always stood for good people working together to make a great product we are proud to stand behind.  We make stunning, highly-crafted ambulances built for resiliency on L.A. roads and highways," said Gary DeCosse, General Manager of Leader. "I'm excited to put Leader on a path that will keep it moving forward for years ahead and maintain its position as an important manufacturer and employer in L.A. County."
Experts in Customization for Today's World
Leader has previously designed ambulances to help support during infectious disease outbreaks such as the Ebola crisis and natural disasters such as Hurricane Katrina, as well as supplying High-Risk Infection Control ambulances for the Los Angeles County Department of Health Services and Norcal Ambulance. With the ongoing Covid-19 pandemic, Leader will be rolling out an interior package this summer, which includes an anti-microbial coating on every surface. They are also looking at different coatings and non-porous materials, to further fight Covid-19 and future easily spread viruses. For other specifications, Leader is nimble enough to answer detailed customization requests that might not be possible with other manufacturers.
For more information, visit the website: https://leaderambulance.com/.
About REV Group, Inc.
REV Group (REVG) is a leading designer, manufacturer, and distributor of specialty vehicles and related aftermarket parts and services. We serve a diversified customer base, primarily in the United States, through three segments: Fire & Emergency, Commercial, and Recreation. We provide customized vehicle solutions for applications, including essential needs for public services (ambulances, fire apparatus, school buses, and transit buses), commercial infrastructure (terminal trucks, industrial sweepers, and transportation services) and consumer leisure (recreational vehicles and 'RVs'). Our diverse portfolio is made up of well-established principal vehicle brands, including many of the most recognizable names within their industry. Several of our brands pioneered their specialty vehicle product categories and date back more than 50 years.

Request more info from REV Group
Thank You!