Adaptable apparatus: 4 ways quick response units save time and money
ESI Rapid Response Units offer customizable caps that are transferable to any domestic heavy-duty pickup truck bed
---
Time is the most valuable commodity on the fireground – every second counts. And the speed of initial deployment is equally critical, as departments continually search for ways to streamline response efforts.
As many departments struggle to fully staff shifts, smaller, quick response vehicles can provide increased efficiency for crews and reduced deployment needs for other apparatus. One such option is ESI Rapid Response Units, which can be configured to meet the needs of the department. The units are essentially plug-and-play transferrable caps that can be outfitted on any heavy-duty domestic pickup truck bed – a potential game-changer for apparatus deployment.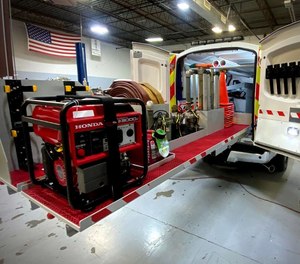 Let's consider four ways ESI Rapid Response Units' customization, transferability and featured technology can assist fire leaders by streamlining operations and maintaining consistency among vehicles.
1. Reduced wear and tear on expensive apparatus
With budgets strained and fuel prices on the rise, departments are searching for economical solutions to response needs. Because ESI Rapid Response Units can be outfitted on any heavy-duty domestic pickup truck bed, these units can be deployed as the first-due unit that handles most calls, reducing wear and tear on more expensive apparatus deployment, as well as the need for large crews. Such units can be particularly useful for motor vehicle collisions and similar calls where the full suite of apparatus might not be necessary.
2. Transferable and plug-and-play
ESI Rapid Response Units are rated to last between 15 to 25 years, typically exceeding the life of the primary pickup truck to which they are attached. The units can be easily transferred from one domestic heavy-duty pick-up truck bed to the next, extending the life of the unit and maximizing value for crews. Fitting both 6.5-foot and 8-foot beds, the units can transfer among vehicle manufacturers with the use of ESI Shim Kits, increasing departments' fleet versatility.
Further, the plug-and-play nature of the units simplifies transfers. Wiring is contained in a custom-built Power Distribution Center (PDC) board mounted inside the body, with a single wiring harness connected to the truck, allowing members to easily disconnect the unit from one vehicle and transfer it to another, reducing the need to purchase a response-dedicated vehicle.
3. Ready to mobilize
ESI Rapid Response Units are custom-built to create an "all in one" response, negating the need for additional apparatus and staffing at less complex scenes. Specifically, the units offer a variety of accessories and options for any department's needs, from K9 resources to EMS and incident command. Some of the options include:
Climate-controlled cabinet for IVs and medications;
Pump/foam compatibilities;
LED-enhanced rear backup system;
Accountability software;
Command platforms with whiteboards and monitor mounts;
USSC seating;
Portable compressed-air foam system (CAFS); and
K9 accommodations.
The units also feature power rear slide-outs, controlled-descent side slide-outs, and a roof actuator to provide enhanced room and protection on scene.

4. Protection from the elements
Most fire scene operations require technology to stay dry, as most equipment doesn't respond well when wet. ESI Rapid Response Units feature a substantial guttering and gasketing system to direct water outwards, away from areas storing sensitive equipment.
Additionally, Rapid Response Units can be configured to offer shelter for electrical and battery-operated equipment and feature a retractable roof for additional protection from the elements. The fully enclosed units also feature an HVAC system to maintain the proper temperature for the technology and keep the unit safe and working despite the weather.
The value of efficiency
With multiple configuration options, the ability to transfer the unit to another truck bed, and the focus on protecting, organizing and storing life-saving equipment, ESI Rapid Response Units are an economical solution for organizations looking to get the most bang for their budgeted bucks.
Learn more about ESI Rapid Response Units on their website.

Request information from ESI Equipment, Inc.
Thank You!