Is an electric fire engine a good fit for my fire department? (white paper)
Here's what it looks like to adopt this new technology
---
Sponsored by Rosenbauer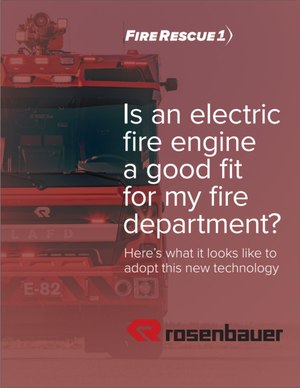 In August 2022, California Governor Gavin Newsom signed a bill that will ban the sale of gasoline-powered vehicles by the year 2035 and require all new passenger vehicles to be electric. Now, 15 additional states have pledged to follow California's lead in transitioning diesel-powered vans, buses and trucks to electric operations.
With so much emphasis placed on electric vehicles (EVs) now and in the coming years, it only makes sense for those in the fire service to examine their own apparatus.
Download this white paper to learn more about electric fire apparatus and if this technology is right for your department.
Learn more about this new technology