Report: Steep incline, visibility factors in apparatus backing death
Firefighter Timothy Jansen, of the Santa Fe Fire Protection District, died Dec. 2, 2012
---
CLINTON COUNTY, Ill. — An inadequate amount of high-visibility retro-reflective clothing and backing a manual transmission fire apparatus up a steep incline were contributing factors in the death of an Illinois volunteer firefighter, NIOSH investigators found.
Firefighter Timothy Jansen, of the Santa Fe Fire Protection District, died Dec. 2, 2012, after being struck by a backing fire apparatus at the scene of a rural brush fire that had extended into a vacant structure. The incident occurred in a poorly lit rural area.
The 45-year-old was riding in the 1976 brush truck en route to the scene with a captain (the driver) and several other firefighters responded to the scene in their personal vehicles, according to the report.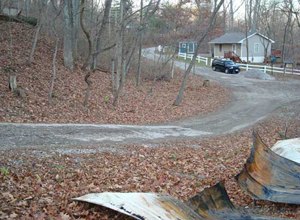 The firefighters observed that the brush fire had spread into a vacant clubhouse and dispatch was notified that a structure was involved. The driver began backing the truck toward the burning structure; Firefighter Jansen dismounted the vehicle to guide the driver up a steep incline, according to the report.
As the truck was backing across the intersection, bystanders began yelling for the driver to "cut it." The driver stopped, pulled forward and began backing again. Firefighter Jansen, who was positioned behind the truck, either slipped or fell in the roadway and was struck by the backing truck, according to the report.
Firefighters on scene immediately began providing medical attention to Firefighter Jansen; he was transported to the hospital, but was pronounced dead upon arrival.
NIOSH recommends fire departments ensure that standard operating procedures regarding the safe backing of a fire apparatus are in place and enforced. Departments should also ensure that all firefighters are trained in and recognize the importance of situational awareness in order to be constantly alert for changing and unsafe conditions.
NIOSH also stresses fire departments should ensure that all firefighters wear the appropriate personal protective clothing and equipment, including high-visibility clothing that meets the requirements of NFPA 1500 and NFPA 1971.
Fire departments and authorities having jurisdiction should also consider replacing the fire apparatus after they have reached 25 years of age, according to the report. In addition, it is recommended that apparatuses less than 25 years old that have been properly maintained and that are still in serviceable condition, should be placed in reserve status and upgraded to incorporate as many features as possible of the post-1991 fire apparatus edition, according to the report.