PRESS RELEASE
E-One delivers Bronto Skylift F135RLX to Manchester N.H. Fire Department
---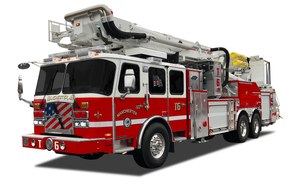 OCALA, Fla.– E-ONE, a subsidiary of REV Group and a leading manufacturer of fire apparatus, is pleased to announce the delivery of an E-ONE Bronto Skylift F135RLX for the Manchester Fire Department in New Hampshire.
This truck features the newest configuration of a Bronto Skylift in North America, the F135RLX, featuring an industry leading 135' of vertical reach. It also includes an all new platform design that is larger with walk-through front double gates and an integrated front deck for enhanced rescue operations.
Other key features of Manchester's E-ONE Bronto Skylift F135RLX include:
Articulating boom design with up-and-over rescue capability and below ground level reach of 15'
Up to 88' of horizontal reach
Variable jacking (operational envelope will adjust based on the amount each outrigger is extended)
1275 lb max platform load (1000 lb personnel plus 275 lb equipment)
1250 GPM waterway flow
E-ONE Cyclone® extruded aluminum cab
Cummins 600 HP X15 engine
Modular extruded aluminum body
Enclosed ladder storage for 99' of ground ladders
8 kw Harrison hydraulic generator
AXIS® Smart Truck Technology
"The RLX family of aerials is a proven product for Bronto Skylift outside of North America. As done with the F116RLP, we worked closely with Bronto engineering to develop the new F135RLX articulating platform for North American applications," said Joe Hedges, E-ONE Product Manager. "A majority of the collaboration with Bronto centered around designing a versatile platform with a wide walk-through front gate."
This marks the third E-ONE Bronto for Manchester over the last 20 years. And it's the second of two Bronto Skylift aerials recently delivered to E-ONE customers. Miami Dade Fire Rescue recently took delivery of an E-ONE Bronto F116RLP+, featuring 116' vertical reach, up to 87' horizontal reach, variable jacking, 1500 GPM waterway flow, 2000 GPM pump, 300 gallon water tank and SideStacker® hose bed.
For more on the E-ONE Bronto, go to e-one-aerials.com
About E-ONE
E-ONE is a worldwide designer and manufacturer of fire trucks with more than 28,000 vehicles in operation around the world. Headquartered in Ocala, Florida, E-ONE is the industry leader in product innovations, new technologies and exceeding customer expectations. E-ONE is owned by the REV Group (NYSE: REVG), a leading manufacturer and distributor of specialty vehicles and related aftermarket parts and services serving fire and emergency, recreational vehicle, commercial bus and mobility markets worldwide. Learn more at revgroup.com.
About REV Group, Inc.
REV Group (REVG) is a leading designer, manufacturer and distributor of specialty vehicles and related aftermarket parts and services. We serve a diversified customer base, primarily in the United States, through three segments: Fire & Emergency, Commercial and Recreation. We provide customized vehicle solutions for applications including essential needs (ambulances, fire apparatus, school buses and municipal transit buses), industrial and commercial (terminal trucks, cut-away buses and street sweepers) and consumer leisure (recreational vehicles and 'RVs'). Our diverse portfolio is made up of well-established principal vehicle brands including many of the most recognizable names within their industry. Several of our brands pioneered their specialty vehicle product categories and date back more than 50 years. REV Group trades on the NYSE under the symbol REVG.