PRESS RELEASE
Elliot M. Paisner II is awarded the 2022 FAMA scholarship
---
The Fire Apparatus Manufacturers' Association (FAMA) awarded a scholarship to University of Maryland student Elliot M. Paisner II.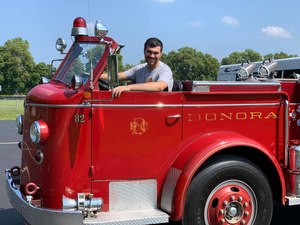 Lou  Milanovich, FAMA Education Committee Chair, stated, "Elliot grew  up  fascinated by fire apparatus and equipment and is now a fourth-generation volunteer Fire Fighter/EMT. As a result of his passion and  continued research of the  fire protection industry, Elliot has developed an extensive personal library on the subject. His unwavering drive to serve within the fire protection industry is well deserving of a FAMA scholarship."
Paisner serves as a volunteer Firefighter/EMT for Prince George's County.  He is dedicated to his career goal of becoming a Fire Protection Engineer where  he  can  make  an  impact through  life safety research and  other aspects of fire that will support firefighters. Because of his fascination, Paisner  is  interested  in many  of  the  possible career opportunities  and  directions  within fire protection. His ultimate career goal within fire protection is not defined, but  Paisner's thirst for knowledge and learning will support him in whatever direction he takes.
On behalf of FAMA, we wish Elliot Paisner a successful career in fire protection engineering.
About FAMA
The   Fire  Apparatus  Manufacturers'  Association  (FAMA)  is  a   non-profit  trade   association organized in 1946. Members of FAMA are committed to enhancing the quality of the fire apparatus industry and  emergency service community through  the  manufacture and  sale of safe, efficient fire apparatus and equipment.

Request more info from Fire Apparatus Manufacturers' Association
Thank You!