PRESS RELEASE
Lenco Armored Vehicles celebrates major milestone
---
Family owned and operated business observes its 40th anniversary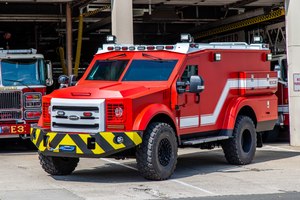 PITTSFIELD, Mass.- Lenco Armored Vehicles, designer and manufacturer of armored response and rescue vehicles has reached a major milestone. The company celebrated 40 years in business in February, 2021. What began as a family owned and operated small business in the Berkshires, has grown to become an industry leader with more than 6,000 vehicles produced and in operation in over 40 countries around the globe.
Founded on the principles of quality, integrity and customer-focus, Lenco Armored Vehicle's product line has evolved to serve police and government, military and international, and fire and EMS entities.
Len Light, Lenco president and CEO, shared some insight on the company's roots. "I've always believed that, in business, you need to be better, faster, or cheaper than your competitors, or don't even bother.  When we started Lenco, we made the conscious decision to be better on quality and faster on innovative product improvements.  We went into the field and listened to our end users, which enabled us to better design the product from an end-users point of view."
And that mindset has been a bedrock principle for everything they do—from ergonomic, customer-focused engineering to precision manufacturing with high quality equipment, certified materials and certified technicians.  Lenco's facilities reflect this level of expertise, attention to detail and professional, friendly customer service and technical support.  It has gained Lenco a respected name in the industry and allows the family-run business to successfully compete against much larger companies and overseas competitors.
Over the last 40 years, Lenco has earned the trust of tens of thousands of tactical operators in the United States and around the world.  While best known for their iconic BearCat, the product line has evolved into many mission specific models with proprietary features.  From Public Safety & Medical Response in hazardous and Severe Weather conditions, to Counter-IED and Combat Fire in International conflicts and Military war zones in some of the harshest environments on Earth, Lenco BearCats have proven to be durable, reliable multi-purpose response & rescue vehicles capable of the toughest performance standards in a variety of mission profiles. 
"As we transition to our third and fourth generations, we thank all members of our staff, past and present, for their many contributions and years of dedication and hard work in achieving this milestone.  We can all be proud of the work we do every day, providing Public Safety to First Responders with life-saving equipment as they perform their jobs in some very challenging, dangerous and life-threatening situations."
 To learn more about Lenco's company history or its line of rescue and response vehicles, visit lencoarmor.com/.
About Lenco Armored Vehicles
Since its founding in 1981, Lenco Armored Vehicles has been the most trusted manufacturer of tactical armored security vehicles by law enforcement, fire and rescue and government entities worldwide. The privately held, family-owned and -operated company revolutionized tactical response with the advent of the BEAR® and BearCat®, and since, has designed and fabricated more than 6,000 armored vehicles in service by more than 800 state and federal agencies in all 50 states. Lenco prides itself on protecting defenders around the world and serving as the standard in the industry. For more information about Lenco Armored Vehicles, visit LencoArmor.com.

Request more info from Lenco Armored Vehicles
Thank You!