Company donates fans to N.J. fire department
After Hurricane Sandy destroyed much of its equipment Moonachie Fire Department is getting a helping hand
---
MOONACHIE, N.J. — Tempest Technology Corp. recently donated much needed ventilation equipment: two VentMaster Fire Rescue Chainsaws, a 16-inch smoke ejector and an 18-inch positive-pressure fan (Tempest VSX Power Blower) to the Moonachie (N.J.) Fire Department.
The Moonachie Fire Department, located in the upper portion of New Jersey, took on the full force of Hurricane Sandy when it made landfall in October. As most of New York and New Jersey suffered terrific loss and damage from the storm, even the areas emergency service structures were not spared.
The Moonachie Fire Department Headquarters was quickly destroyed by water and sewage after the storm surge forced its way over the berms of the nearby Hackensack. The flood swept through submerging nearly the entire town.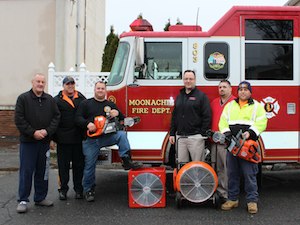 Since the disaster, many have come through to donate food, water, clothing and more necessities to the department. However, much of their firefighting tools and equipment were lost as well. After hearing about the tragedy, Tempest Technology Corp. along with their partner, Eagle Fire Equipment (located in New Jersey), felt a calling to help out this group of first responders who were caught in the storm's path.
"We manufacture and sell ventilation equipment to fire departments around the world, but more importantly, we hope to be a means of support for those same firefighters when they need it most. Donating equipment is one way we're able to do just that," says Johan Gidstedt, the president of Tempest. "We encourage other manufacturers to do the same, especially after such a wide-spread disaster like Hurricane Sandy."
Tempest Northeastern Regional Manager Eric Lohse was greeted by Chief Victor Migliorino, President Justin Derevyanik and others when he delivered the equipment just one week before the Christmas holiday.
There are many tools that make up a firefighter's toolbox, and much of those still need to be replaced for the Moonachie Fire Department. If you'd like to help and donate to the department, you can contact Justin Derevyanik at jjd0422@aol.com or visit the Moonachie FD Facebook page at facebook.com/moonachiefiredepartment for Paypal account information.