Spotlight: The Quick Step Anchor makes Vertical Ventilation Operation faster and safer
Their anchor provides a solid and confident foothold for firefighters performing dangerous tasks.
---
Company Name: Quick Step Anchor
Headquarters: Wilbraham, Massachusetts
Signature Product: The Quick Step Anchor
Website: http://www.quickstepanchor.com/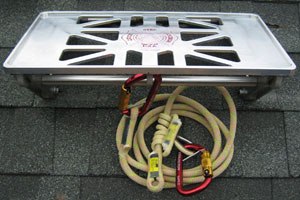 The Quick Step Anchor is a device that has been designed to safely speed up Vertical Ventilation Operations by providing firefighters with a sturdy platform that takes the place of an ax, trash hook or halligan.
Where did your company name originate from?
Quick—The tool deploys in seconds.
Step—It provides a stable platform on which to operate.
Anchor—The firefighter is secured to the device by a robust lanyard to prevent a fall.
What was the inspiration behind starting your company?
About 10 years ago, a Springfield (MA) firefighter fell from a roof at a fire and sustained life-threatening injuries that cost the city more than $300,000 and kept him off the job for a year. His decision to return to work in spite of his injuries inspired everyone in the department. Four years ago, Capt. Robert Duffy, Ladder 8, Springfield Fire Department, woke up in the middle of the night with an idea to make operating on a pitched roof faster and safer. That idea evolved through design and engineering prototypes and the finished product is the Quick Step Anchor.
Why do you believe your products are essential to the public safety and security community?
Operating on a pitched roof is one of the most challenging assignments for a truck company. Any device that can get those people on and off the roof quickly and safely will reduce the likelihood of a fall and serious injury or death.
What has been the biggest challenge your company has faced?
The financial challenges a start-up company faces can be intimidating. The expenses, associated with product development, marketing and advertising, plus the logistics involved in scheduling travel to dealers and trade shows – all while working full-time as a career firefighter—demands a lot of energy and enthusiasm. But we think this is the right tool at the right time and we're in it for the long haul.
What makes your company unique?
The Quick Step Anchor is the only device of its kind that is secured to the roof itself by two robust steel hooks penetrating a kerf cut. Others are attached to a roof ladder, applying weight and force to the ladder outside the rails, which it is not designed or engineered to bear.
What do your customers like best about you and your products?
Simplicity. . .Practicality. . .Authenticity. . .Integrity.
What is the most rewarding part of serving the first responder community?
We not only support it, we are part of it. We're on a mission to drive down the number of line of duty deaths in the fire service.
Do you support any charitable organizations within public safety?
Yes, we do.
Is there any fun fact or trivia that you'd like to share with our users about you or your company?
A fellow at a trade show last year suggested that we could bring the price down if we had it built overseas. This was just a few weeks after more than 1,100 people died in the collapse of a garment factory in Bangladesh. We replied that the Quick Step Anchor will not be made overseas  It is made in Springfield, Mass., just minutes from the Smith & Wesson factory. He got the point.
What's next for your company? Any upcoming new projects or initiatives?
You bet! We'll soon introduce a version for contractors and builders to use.