Spotlight: Ventry Solutions' safe, efficient firefighting fans provide a powerful PPV tool
VENTRY fans offer aggressive ventilation and rapid setup solution
---
Company Name: Ventry Solutions, Inc.
Headquarters: Hauser, ID
Signature Product: VENTRY® Fan
Website: www.ventry.com

With a strong history of service in fire and rescue, Ventry Solutions, Inc. has 123 years of combined firefighting experience between its workers. Current CEO James Neils has worked with his father most of his life to help bring firefighters fans and lights that can solve problems no others can. Read more about Ventry Solutions' excellent customer service and the online training presence they are building.
Where did your company name originate from?
When you do Positive Pressure Attack, all firefighters enter at the same place that the fan is flowing in – the entry point. We combined vent and entry to get Ventry (as in "Ventilate at the Entry with a Ventry Fan!") This is actually a very important concept when doing PPV as it is dangerous to deploy a fan after firefighters have entered. We either want the firefighters to follow the fresh air in, making sure that they don't end up downstream of the fire with a fan pushing air in, or we want the fire completely out before the fan is deployed.

Our original business name, J. Neils Enterprises, Inc., reflected much family history and was accurate in that John Neils (Dad), James Neils (son) and Joan Neils (daughter) are all involved. In 2009, however, we changed it to Ventry Solutions, Inc. While we were proud of "J Neils," it was hard to remember, pronounce, alphabetize and spell – all drawbacks for customers using Google. Customers already knew us by our fans anyway, so they often referred to us as "Ventry." It was an easy transition that ultimately helped customers find us, simplified paperwork and made marketing much easier!
What was the inspiration behind starting your company?
John was introduced to PPV after reading Essentials of Fire Fighting and Fire Department Operations. He came back to the fire department and told the chief about this new tactic and requested a fan. John's experience as a pilot, as well as having built several experimental aircraft in which the chief had ridden, led him to be "volunteered" to build our fire department the first PPV fan. Originally called a Windjammer, John built the first prototype – and it didn't work!

The second fan incorporated solutions to problems pointed out by fellow firefighters. It worked quite well and neighboring departments soon took notice. Demand for our fans grew slowly and steadily, eventually leading Dad, the inventor, entrepreneur, aircraft builder, and construction business owner, into full time fan manufacturing.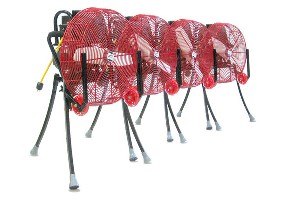 John's son, James Neils, has worked with Dad most of his life. After graduating as a Mechanical Engineer, he joined the fire service in 1993 and started working full time on the fans. James now serves as CEO and mechanical engineer, allowing Dad to enjoy retirement.
Why do you believe your products are essential to the fire market?
Our fans and lights solve problems no others can. For example, they set up and perform in imperfect environments. They don't require a flat surface for optimum performance. They overcome debris and obstacles common to most emergency scenes. Our products' efficiencies are also paramount to their value in the fire market. Many of the ventilation and lighting challenges firefighters face are overcome through efficiencies in our products: lots of air with little horsepower and bright light with little energy requirements. Our customers need not buy extra gadgets and add-ons (like exhaust extensions and scrubbers); they just get safety tools that perform efficiently and avoid hassles and hazards in the first place.
What has been the biggest challenge your company has faced?
Getting the word out! We solve a lot of problems that firefighters don't even realize are avoidable; however, because of our small size and comparable marketing budget, we are a little harder to find. Our customers are usually the ones who do their research, who take the time to talk to their peers and poke around a bit, helping them recognize the potential of our products. Those are the customers who find us, appreciate the value, and help us spread the word. We are content with our little share of the market, but it's a dream to increase awareness to the point that everyone has the opportunity to use our safety tools.
What makes your company unique?
123 years and counting of distinguished – and award-winning – service in fire and rescue! All of us are volunteers in some capacity, primarily with fire/rescue. Dad's on his 24th year as firefighter and first responder; James is on his 20th year, currently serving as Deputy Chief of Operations, and EMT; Ken retired this year after 13 years as a first responder; Doug volunteers with the Boy Scouts and three different fire departments! Joan doesn't fight fires but serves as the Secretary, Treasurer and web admin. Our dear friend and partner Myron leads the pack, still active as a firefighter, EMT and instructor since 1976.
We work as firefighters and receive much feedback from fellow firefighters and customers in the industry who give us insight into how our products are really used. This allows us to design products that are uniquely fitted to the fire service. We build 'em, test 'em ourselves, use 'em in our own departments. The products we manufacture and sell to other firefighters are the same as those we use ourselves. If we are not proud enough to place it on our first-out apparatus, it will not be sent to your department. Finally, we support our products with "lifetime factory support" that reflects a sincere passion and dedication to public safety.
What do your customers like best about you and your products?
About us? Our customer service and lifetime factory support. About our products? How smart they are for having chosen them (a customer actually said that recently). Our products and our customer service exceed most everyone's expectations, time after time after time. Our small size helps us be responsive, dynamic, and personal. There's one number, no phone tree, and real people who are all empowered to prioritize customer service above all else. Our CEO often answers the business line after hours (it rings at his home also). We are empowered to do what's best for the customer, and it comes back to us time after time. We turn criticisms and concerns into constructive feedback with which we improve our products and we earn repeat customers who share their experiences with us and others.
What is the most rewarding part of serving the first responder community?
Working for a living at a job you know will make this world a better place is a huge advantage. At Ventry Solutions, Inc. we are manufacturing products that we know will help firefighters all over the world. When we send out our fans and lights, all of our partners (employees included) are entrusted with building products that will work for the departments that purchase them and products that we would be proud to deploy on one of our own fire department's scenes. When you are proud of what you are doing and making a valuable product that will help all over the world, it makes coming to work a joy.

During the weekdays, when there is an emergency in our community, we are able to respond. If you employ emergency service volunteers, we believe that you are obligated to make sure that they can respond when called. During our workday, when the pagers go off, we respond. In a small bedroom community like ours, during the working day, we may be the only personnel able to respond from our own district to emergencies in our community. It can challenge our business a little at times when the majority of our staff leaves in a moment's notice, but being of service to our community and often using the equipment that we build in the process ends up being a great benefit to our business and a perk to our employees.

Knowing that what we do makes first responders safer and more effective saves lives. It's also very rewarding to know that we operate in an ethical manner, do what's best for our customers and each other as colleagues, and contribute to our communities and country.
Is there any fun fact or trivia that you'd like to share with our users about you or your company?
Several of us were honored for fire/rescue service this year! James won Firefighter of the Year for 2012 (which is normally reserved for non-officers) and Myron, our supplier and friend, got the Dedication & Devotion Award. Doug Weniger was honored with Outstanding Explorer Advisor of the Year for his years of involvement in the Boy Scouts, sponsored by Kootenai County Fire & Rescue of which he is a volunteer.

Second, we were not thrilled about the idea of spending time on social media as part of our business, but Facebook has proven to be a great medium through which we can interact with all of our customers and partners, sharing the fun day-to-day things that make us unique. We might post about having most of our staff leave on a fire call, or share cute pics of kids and critters that wouldn't be appropriate on a business website.
How did your background in Fire Rescue help you create with the product?
It'd be easier to detail what parts of our products have NOT been improved by our background in fire/rescue! In fact, every aspect of them has in some part been influenced. Because our staff has hands-on field experience with our own products, we implement our own experience in addition to that of our friends, colleagues, partners (dealers) and customers. It's an incredible network of input and expertise, which we have the resources, expertise, and engineering capabilities to implement. This gives our company an edge and adds great value to our products.
What's next for your company? Any upcoming new projects or initiatives?
Training. Training. Training. Ventilation, PPV and PPA included, have changed dramatically in twenty years and James has kept up with the advancing science and technology. He'll be applying his extensive and unique expertise in the field to developing and presenting online training on ventilation. PPV is even more crucial today as a lifesaving tactic, and competency and training are more crucial than ever. After taking his class recently, Dad said, it is an "ethical imperative" for us to share the current science and knowledge with our peers and customers. New online technology like Go-To Training will let us do that easily and cost effectively, so that others can participate at very little expense.

The training James develops will drive revisions to our existing product manuals and documentations also. Our registered customers will be upgraded with new product documentation for free as soon as it's available.

For more information on Ventry Solutions, visit www.ventry.com.