PRESS RELEASE
Super Vac realses Makita-Powered Battery PPV, adding to its already versatile battery fan line
---
FORT COLLINS, Colo. —  Super Vac, one of the leading manufacturers in fire ventilation equipment, is adding the Makita® XGT battery platform to its versatile battery fan lineup. The release comes in time for FDIC International 2022 with an unveiling of the Makita fan at the Indianapolis show (Super Vac Booth #3417).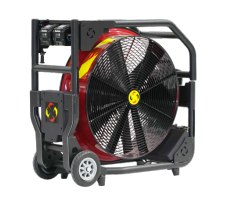 The Makita-powered fan joins Super Vac's already versatile lineup of battery fans powered by nonproprietary, easy-to-source batteries, which includes DeWalt® FLEXVOLT, Milwaukee® M18/M28 and HURST® EWXT/E3™ batteries, making this lineup the most compatible PPV interface on the market, allowing departments to simplify battery purchases.
Super Vac's newest fan is available with dual 4ah or 5ah Makita XGT batteries, delivering 35- and 50-minute runtimes respectively. Each fan comes standard with 120-240V AC shore power for backup power. The Super Vac Makita-powered battery fan will be available in 16", 18" and 20" models. Preliminary airflows range from 8,000-11,700 cfm, depending on model.
In addition to the Makita addition, Super Vac is introducing a 16" model with wheels and handle, available in all battery platform models. This design mirrors Super Vac's 18" and 20" design but in a smaller, lightweight design. The fan's curved handle provides higher grip for better ergonomics, and standard tires make it highly maneuverable. The "-WH" model joins Super Vac's other 16" fan, which features a dual-handle saddle bag design for carrying mobility. "We're proud of this addition. Makita, DeWalt, Milwaukee and Super Vac are long trusted names, and we simply brought them together to deliver a lineup of PPVs that are compatible with departments' other battery-powered tools," Super Vac President Roger Weinmeister said. "This fan adds to our full line of PPV fans, making it the most robust offering you'll find. From an 8" Nano to our 80" industrial fan, we are the industry's one-stop ventilation shop."
For more information on Super Vac's battery fans, visit supervac.com/battery-powered-ppv.
About Super Vac
Super Vac is the world's leading manufacturer in the emergency ventilation products. A onestop shop for all things ventilation, Super Vac equips crews with a versatile array of only the toughest solutions, including the industry's largest lineup of PPV fans, spanning from 8- to 80- inch blades, as well as smoke ejectors, available in 12-, 16-, 20- and 24-inch blades. Super Vac also manufactures rescue saws, rehab misters and other necessities, including the patented Smoke BlockAid for smoke mitigation.

Request more info from Super Vac
Thank You!