The power of curiosity
Leave a legacy that will improve the fire service for generations to come
---
Sponsored by IDEX Fire & Safety
By Laura Neitzel, FireRescue1 BrandFocus Staff
Most parents want the best for their children. Our job, as parents, is to help our children thrive. We endeavor to give them the skills, knowledge and life lessons that will help them succeed in life long after we're gone. We have a moral obligation to prepare them to solve the problems we've left unsolved and meet new challenges to come.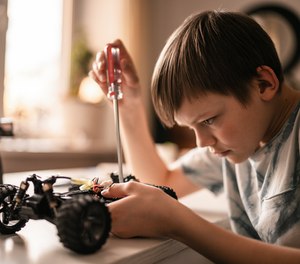 The best way to do this, in my opinion, is to instill in our children a sense of curiosity that will be the spark that inspires their imaginations, so they can improve their worlds when we are gone.
Imagine what that means for the fire service. Modern PPE, vehicle extrication tools, thermal imaging cameras, digital radios and other tools that are essential to the fire service today were all once just a thought in a curious person's mind: "I wonder what would happen if…"
I recently spoke to three leaders who have inspired innovation in the fire service. One thing they had in common: their sense of curiosity. They were all the kind of kids who peppered their parents with the question "why?" and then sought to find out for themselves when the answer wasn't enough.
What these leaders will leave behind to the next generation are not only technologies that are making the fire service safer, but a sense of wonder and curiosity that will continue to nurture and inspire future generations of firefighters.
Here are their stories.
Struck by inspiration
Cory Hohs was about 10 years into his career as an engineer working for a spatial automotive mapping company when he was almost struck and killed by an ambulance while on his way to work in Chicago.
"I was coming through an intersection on a motorcycle and there was an ambulance coming and I didn't see it or hear it," said Hohs. "I wasn't listening to music or anything and it was literally 3 o'clock on a sunny day."
At the time, Hohs was working on automotive software primarily geared toward spatial sorts of driving directions and navigation applications in vehicle systems. (This was in the days before everyone had a navigation app in their phone.) The near-miss piqued his curiosity.
"It was one of those things of 'Why can't emergency vehicles talk to cars?' This sounds crazy. 'Why isn't this available?'" he recalled.
So Hohs and his colleagues started to work to bring it into existence.
"With our backgrounds, we started to look into why this doesn't exist," said Hohs. In 2015, HAAS Alert was launched with a focus on developing innovative emergency alerting technology directly with first responders.
"Of course, it seems easy like, 'Oh, we'll just make an app and then we will alert drivers in their cars,'" Hohs said. "But when you start looking at the complexities, you realize it really isn't a tech problem."  Among first responders – with myriad technologies that vary agency by agency and jurisdiction by jurisdiction – the bigger challenge isn't overcoming technical hurdles, it's overcoming organizational ones.
After some of the challenges that typically befall inventors, in 2015 HAAS Alert launched Safety Cloud to allow first responders to communicate with civilian cars.  When an emergency vehicle turns on its lights or sirens and responds to an incident, an approaching motorist will get a real-time digital alert that tells them "Emergency vehicle on scene," or "Emergency vehicle approaching." It works with vehicle navigation systems, apps like Waze and GPS in a mobile device.
It wasn't easy, but, like most innovators, Hohs never gave up. In fact, after spending a year and a half developing an alerting app that relied on acoustic technology to listen for sirens to activate an alert, Hohs and his partners learned that not all emergency responders use lights and sirens. And even with lights and sirens, first responders still get hit.
"Our mission and vision were to get zero deaths for first responders from struck-bys. We realized that problem was not going to be solved if we had stuck with that tech. So, we completely abandoned it," said Hohs. "It was a huge, hard fundamental shift in the business, but I'm glad we did it."
Hohs is grateful to the many, many first responders who helped shape Safety Cloud. "You have to hear what they have to say and be able to adjust and change what you thought was the best answer. First responders themselves are the ones that are going to help you build the best product to help protect them out on the roadways," he said.
The persistence and focus paid off. Today, Safety Cloud helps fire and EMS departments reduce collisions en route and on scene by up to 90%. Safety Cloud also serves law enforcement, public works, tow trucks and other segments. It is included in emergency vehicle alert systems in vehicles from Dodge, Ram, Jeep and Chrysler, and now some emergency vehicle manufacturers include it as a standard feature in fire trucks and ambulances. Hohs gives credit to the manufacturers for clearing the path of the roadblocks that used to exist and allowing technology and innovation to get into the hands of first responders.
You have to have some sort of intellectual curiosity to question why a problem is and not be comfortable with that problem just sort of existing in the world. If you care enough about the problem to solve it, you're going to be able to crack it open. - Cory Hohs
'What does it take to prevent collisions and improve road safety?' I asked Hohs.
"Curiosity. You have to have some sort of intellectual curiosity to question why a problem is and not be comfortable with that problem just sort of existing in the world. If you care enough about the problem to solve it, you're going to be able to crack it open. And if you don't solve that problem, you're going to wind up solving a different problem along the way and something's going to come of it. You're never going to go after something to try to solve it and then sit back and go, 'Well, that was a big waste of time.'"
Embracing innovation is a family tradition
You don't have to be an inventor to make a lasting impact on the fire service. Just being willing to be open to innovation and listening to new ideas can make a tremendous difference. Such is the case with T.J. Martin.
In his 40-year career in the fire service, Martin served as a public information officer, technology coordinator and radio coordinator for the City of Parma Fire Department in Ohio. His father was a fire chief, so the fire service is in his genes. Plus, he was one of those curious kids. "I guess I was always too stupid not to ask why," Martin joked.
Thanks in no small part to his innate curiosity, Martin helped Parma FD gain a reputation for being at the cutting edge of public safety communications.
"I've always been the type of person who said, 'Why not? Why can't you do this? I'm going to pose the question, let's come up with an answer for it.' And, unfortunately, in the fire service, we don't do that. We don't want to think outside the box. I was fortunate enough to have a chief who had enough faith in me to say, 'If T.J. says it's right, it's right. Let's do it.' And I would put the research in."
Martin worked with Cleveland Communications, L3Harris and AT&T FirstNet to deploy the first Inter-RF subsystem interface (ISSI) to connect with FirstNet's push-to-talk service. This enabled interoperation between P25 land mobile radios and AT&T's FirstNet LTE network, giving the department the ability to use the speed and bandwidth of the LTE network with their radios.
He also spearheaded some innovative uses that put Cradlepoint routers and the FirstNet platform into an ambulance. This brought "conceivably a mobile data center to every incident we had," said Martin, "which allowed for increased ability for communications with the hospital and increased data to be provided on a fire scene or a hazmat scene or any scene, which, in the past, would have been unavailable."
Martin encourages leaders in the fire service to set aside their egos and be open to new ideas. He points to the research and development arm of the Fire Department of New York as a shining example. "They are an ancient organization, steeped in tradition. It's impressive that a department that big, that steeped in tradition, takes the opportunity to use technology to their advantage. And guess what? It's saving firefighters' lives. It's saving property and it's cutting costs."
Martin acknowledges that not every department has the resources to undertake its own research and development, but he does think that innovation is achievable for every department, no matter the size or budget, because it starts with being curious and open to new ideas.
Innovation is taking hold and we need to be able to embrace that. But there has to be a change in the culture so we do embrace that. - T.J. Martin
"Innovation is taking hold and we need to be able to embrace that. But there has to be a change in the culture so we do embrace that," he said. "The next few years – the next decades – are going to be so much better. And it provides for so much more safety, for so many more opportunities at innovation, and so many more opportunities for people who want to use that innovation to be able to use it. That will, in turn, perpetuate and create greater opportunities that possibly even the manufacturers haven't thought of."
As to his legacy, Martin said, "My dad always tried to make things better. I've taught my kids to make things better than when they found them. That was the way I was raised. That's the way I raised my kids. And I think – and I hope – that I placed the department in a position to be better off in the future than we have been in the past."
Martin thinks that with the right attitude, anyone can be that person with an idea that might change things. "In this day and age, the kids that are coming up now have some pretty good ideas. They're the generation that were brought up with PlayStations and Xboxes, and they've had cell phones since they were seven, eight years old."
One of those "kids" with a good idea, an insatiable curiosity and an Xbox was Jason Cerrano.
Look to the next generation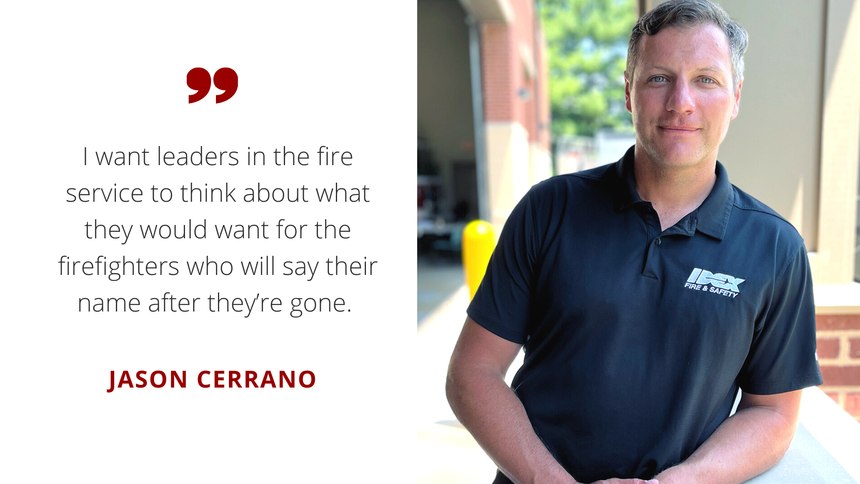 In 2009, Cerrano was on one side of a fire truck, running the pump, and the fire was on the other side. He could see smoke but calls for water weren't coming. With all the chatter and noise on the radio, he was worried he missed the call for water. He didn't, but the frustration of that situation stuck with him.
Being one of those "why" people – and at the time, a 20-year career firefighter – Cerrano ruminated on why there wasn't a better way to control pump operations where he could see the fire and monitor the pump at the same time. The eureka moment struck him as he watched a fellow firefighter play Xbox: Why couldn't pump operations be remotely controlled?
That idea started a years-long journey where Cerrano, who holds an engineering degree, relentlessly pursued the idea of making pump operations remotely controlled.
By 2019, Cerrano's brainchild – SAM – was born.
Today, SAM is a digitally controlled, integrated total waterflow control system that manages the pump, tank, intakes and discharges from a mobile device and allows the pump operator to keep an eye on the pump and an eye on the fireground. SAM has made pumping safer, saves time charging the lines during the crucial first five minutes of a fire, and makes tank level and hydrant information visible, reducing concerns about water availability and enabling attack crews to be more confident and aggressive.
Much to the chagrin of pump operators who pride themselves on hard-won experience operating manual pumps, it also equalizes the skills necessary to make the Xbox kids excellent drafters.
A newer innovation, SAM BOOST, provides similar benefits to the full SAM, but controls pressure at the nozzle, Cerrano said. "You can get out of the truck, grab your hose, go to the fire, hold two buttons and get water, and then just those two hand lines will have pressure regulation and you can see what's going on with the tank level back at the truck."
The hardest thing about developing SAM has, for Cerrano, been getting the old guard to embrace new technology, especially one that replaces manual, hands-on operations with the touch of a finger on a tablet.
Other public safety organizations eagerly adopt the latest, greatest technologies that help them do their jobs with greater success and efficiency. Although tradition is honored, it can also hamstring the fire service.
"In other organizations like the military and the police, the traditions they pass on are values, certain ways of critical thinking and certain leadership styles – and they pride themselves on maintaining those," said Cerrano. "But they also let the tools they use to accomplish those ends change. I fear we in the fire service are missing out on a lot of advancements and a better, safer fireground just because we can be too wrapped up in tradition."
Cerrano thinks there is great benefit in being curious, not just about a problem at hand, but in what the next generation expects (like up-to-date technology, which is quickly becoming a recruiting tool) and what new ideas they bring to the table.
"In the fire service, we sometimes get too focused on maintaining our traditional tools," said Cerrano. "That risks all of the beautiful, selfless, heroic, courageous values that are really important to the fire service being lost because we get so bogged down in our tools that we forget who we are."
Many of us will reach a certain point in our lives when we start to realize the future belongs to the next generation and we begin to think about what legacy we will leave behind.
"Part of that curiosity is like being curious about the people coming in behind you. You have to look at them like your kids or your grandkids, like you would be wondering what they're into," said Cerrano. "I want leaders in the fire service to think about what they would want for the firefighters who will say their name after they're gone – what they want them to feel like when they remember them."
Get more info at SAMflows.com.
Read next: 'A zero-fail mission' – Why one firefighter risked it all to build a better fireground

Request information from IDEX Fire & Safety
Thank You!