Fire service proximity suits: What firefighters need to know
Proximity firefighting ensembles are not just for aircraft firefighting, and not all suits have the same level of protection
---
This article, originally published in 2013, has been updated.
Specialized clothing designed to protect workers from high levels of radiant heat has been around since the 1930s. Those first suits, developed to industrial workers, used asbestos fabric as the protective layer.
Asbestos has long since been replaced by increasingly high-tech fibers such as vacuum-deposited aluminized materials that reflect the high radiant loads produced by a fire.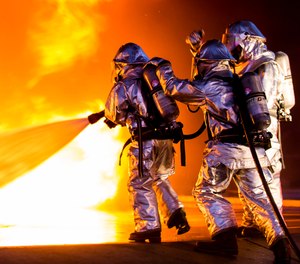 When most firefighters hear the term "proximity suit," they envision the protective ensemble used by firefighters assigned to aircraft rescue firefighting (ARFF).
But this specialized ensemble is not just for ARFF. Proximity clothing is designed to protect a firefighter from any fire producing high levels of radiant heat. In addition to aircraft fires, bulk flammable liquids, gasses and metals commonly produce high levels of radiant heat — as well as convective and conductive heat.
NFPA 1971 covers protective ensembles for proximity firefighting. It says proximity firefighting is typically exterior operations. Proximity firefighting differs from entry firefighting in that the ensemble is not designed for firefighters to enter into flames, but rather to protect from high levels of radiant and conductive heat for a short period of time, for example, the time to approach and close a fuel valve or effect a rescue from a plane crash.
Improper use of proximity suits may result in personal injury or death. Improper use includes (but is not limited to) improper selection, use without adequate training, disregard of the warnings and instructions supplied with the suits, and failure to inspect and maintain the suits.
Suit basics
Proximity suits are designed for exterior rescue operations and other fire situations where there are hazards and people operating in excessive temperature within the manufacturer's recommended operating range.
The outer layer of these aluminized ensembles help to reflect more than 90% of the radiant heat thereby helping the rescuer prolong their stay near a fire.
There are three basic types of aluminized suits.
Approach suit used for work in the general area of high temperatures, such as steel mills and smelting facilities. Maximum ambient heat protection is about 200 degrees F (93 degrees C).
Proximity suit used for ARFF. Maximum ambient heat protection is about 500 degrees F (260 degrees C). Complete proximity protection for ARFF requires aluminized hood or helmet cover with neck shroud, aluminized jacket and pants with vapor-barrier insulated liner, aluminized lined gloves, aluminized ARFF boots, and aluminized covers for SCBA bottles or suits that cover the air pack.
Entry suit used for entry into extreme heat and situations requiring protection from total flame engulfment. Most commonly made of Zetex or Vermiculite and not aluminized. Maximum ambient heat protection is about 2,000 degrees F (1,093 degrees C) for short duration and prolonged radiant heat up to 1,500 degrees F (816 degrees C).
Materials
There are three primary materials used in proximity ensembles: aluminized glass, Nomex and Rayon.
Aluminized glass combines the reflectivity of an aluminized outer surface with glass fabric. Glass fabric neither burns nor supports combustion, and offers a combination of properties from high strength to fire resistance. It is a stable material that will not stretch or shrink, even after exposure to extremely high or low temperatures.
Aluminized Nomex combines an aluminized outer surface with Nomex, an inherently flame-resistant material of aramid fiber by DuPont. Though considered expensive, it is very durable.
Aluminized Rayon combines an aluminized outer surface with Rayon, which provides excellent insulation. It is a permanently flame-resistant material, which has been chemically treated to give it its flame-resistant qualities.
Right time and place
Remember, for firefighting operations, proximity and fire entry ensembles are not designed for entry firefighting operations. They are designed to provide a level of protection that may be consistent with the tactical requirements of the incident. Just as with any of our other firefighting tools, there is a right time and a right place for the proximity ensemble.  
[Read next: How to buy turnout gear (downloadable PDF)]