4 dead in Calif. wildfires
Two women died in NorCal's Mill Fire, now 55% contained, and two civilians were killed in SoCal's Fairview Fire, just 5% contained
---
Michael McGough
The Sacramento Bee
SACRAMENTO, Calif. — Firefighters continue to battle the Mountain Fire and the deadly Mill Fire burning in Northern California, which grew minimally Monday night following explosive starts Friday in Siskiyou County.
The Mill Fire has killed at least two residents, women ages 66 and 73, and has destroyed at least 91 buildings after igniting near the city of Weed on Friday afternoon and burning north into the community of Lake Shastina. The blaze is now 4,263 acres (6.7 square miles) and is 55% contained, CAL FIRE's Siskiyou Unit said in a Tuesday morning incident update.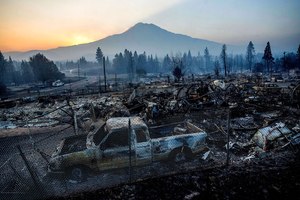 The wildfire displayed "smoldering and creeping" behavior overnight, CAL FIRE officials said Tuesday. While winds are expected to pick up in the area later in the afternoon, "the fire is not expected to grow."
The Mill Fire continues to threaten about 411 structures, according to CAL FIRE. Nearly 2,600 residents were evacuated, and the Siskiyou County Sheriff's Office has lifted or downgraded evacuation orders for some neighborhoods in Weed and Lake Shastina. An evacuation order for the town of Edgewood was also downgraded to a warning after a small blaze erupted Monday near the Weed Golf Club.
Residents of Weed suspect the blaze began at the Roseburg Forest Products mill, reopening old wounds between the city and its largest employer. Oregon-based Roseburg told The Sacramento Bee they're cooperating with CAL FIRE's investigation.
The nearby Mountain Fire is larger with less containment, according to CAL FIRE, and continued to show "moderate" fire behavior overnight including flareups.
CAL FIRE on Tuesday reported the Mountain Fire, which is burning in steep terrain, at 11,690 acres (18 square miles) with 20% containment. The fire, which is burning nine miles southwest of the town of Gazelle, has destroyed two structures and is threatening nearly 700 others. Fifty-nine people remain evacuated, according to Cal Fire.
Fire officials said Monday evening that officials "are actively investigating the cause of the Mountain Fire" and are asking for help from the public to determine how it began. Anyone with information is asked to call the tip line at 530-842-1022.
More than 2,000 firefighters are assigned to the Mountain Fire and more than 700 to the Mill Fire, according to CAL FIRE's Tuesday morning updates.
The Siskiyou County wildfires are burning against the backdrop of an extreme heat wave blanketing California. Afternoon high temperatures around 100 degrees are expected Tuesday and Wednesday near Weed, according to the National Weather Service.
The weather service has a red flag warning in place for western Siskiyou County and for adjacent Modoc County from 1 p.m. to 8 p.m. due to critical fire weather conditions, including a possibility of dry thunderstorms.
Damage assessment remains in progress for the Mill and Mountain fires, meaning the destruction toll may grow. The Mill Fire destroyed much of Weed's historically Black neighborhood, Lincoln Heights.
The causes of the Mill Fire and Mountain Fire remain under investigation by CAL FIRE.
Hill Fire in Placer County
Fire crews were responding Tuesday morning to a vegetation fire west of the Big Dipper mine in Placer County on Iowa Hill Road, north of Foresthill.
CAL FIRE's Nevada-Yuba-Placer Unit reported the Hill Fire at 23 acres shortly before 8 a.m. and said it is burning in steep terrain.
The Placer County Sheriff's Office just after 8 a.m. ordered mandatory evacuations for the Giant Gap, Big Reservoir, Shirttail Creek and Morning Star Lake campgrounds.
Fairview Fire in Riverside County
In Southern California, a blaze called the Fairview Fire erupted Monday in Riverside County, killing at least two civilians and injuring at least one other, authorities said.
CAL FIRE and the Riverside County Fire Department reported the fire at 2,400 acres (3.8 square miles) with 5% containment.
The fire started around 3:30 p.m. near Hemet. Evacuation orders and warnings are in place.
With the Riverside County fatalities, at least eight people have died this year in California wildfires: four in the McKinney Fire in Siskiyou County, two in the Mill Fire and two in the Fairview Fire.
Only three people died in California's 2021 wildfires, according to CAL FIRE.
___
©2022 The Sacramento Bee
McClatchy-Tribune News Service

Request product info from top Wildland Fire Products companies
Thank You!