Family pays tribute to fallen fireman
---
Biographical Info
Age: 27
Additional Info: Jason McKay was going to formally propose to his girlfriend on Christmas.
Cause of Death: The 27-year-old Phelan resident was one of four who died Thursday after being overtaken by wind-driven flames while fighting the Esperanza fire.
Date of Incident: October 26, 2006
---
By Andrew Silva
San Bernardino County Sun (California)
Copyright 2006 MediaNews Group, Inc.
All Rights Reserved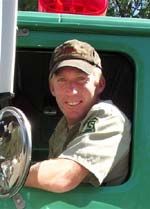 Engine operator Jason McKay is seen here in engine 57 in Alandale, Calif., in this file photo taken Sept. 4, 2003. McKay, along with three other firefighters, died Thursday, Oct. 26, 2006, while attempting to protect a home close to where the fire began in Cabazon on Thursday. The flames came so quickly the five-person crew had no time to retreat to its engine or use portable fire shelters. (AP Photo/Idyllwild Town Crier, Darla Priest)
APPLE VALLEY, Calif. — Jason McKay was going to formally propose to his girlfriend on Christmas.
It wouldn't be a total surprise — the 27-year-old U.S. Forest Service firefighter from Phelan had already popped the question — but he wanted to do it right: Ask her father and get the perfect ring, his family said Saturday.
At about 2 a.m. Thursday, as the Esperanza Fire exploded into a howling inferno, McKay called his girlfriend, said his aunt, Paula Reese of Hesperia.
"Sweetie, this one looks bad. I love you," McKay told his girlfriend, Reese said.
About six hours later, as McKay and four of his colleagues were protecting a house, they were trapped by a firestorm so fierce and sudden they couldn't make it to their truck or even deploy their fire shelters.
He died at the scene along with two others, firefighter Daniel Hoover-Najera, 20, of San Jacinto and fire engine operator Jess McLean, 27, of Beaumont. Their captain, Mark Loutzenhiser, 44, of Idyllwild, died a few hours later. Pablo Cerda, 23, of Fountain Valley, the only survivor of Forest Service Engine 57, was clinging to life Saturday at the burn unit at Arrowhead Regional Medical Center in Colton.
McKay's family held a news conference Saturday morning in front of the Apple Valley Fire Protection District headquarters to talk about their lost loved one.
"Jason was such a perfect person. I want the world to know," said his mother, Bonnie McKay, 52, of Apple Valley.
He was quiet but always pulling pranks and dishing wisecracks as he immersed himself in the great loves of his life: firefighting, his family and his fiancee.
His mother made a plea in keeping with Jason's gentle spirit.
Reading from a statement before a half-dozen television cameras, Bonnie McKay said, "To the arsonist, you already know that you have a problem. I truly believe you didn't think that things were going to happen the way that they did, but they did.
"Don't let remorse eat you alive. Come forward. There are people who can help you deal with the grief and remorse that you must be feeling. I, for one, will try not to judge you, for there is only one who can do that. And I knew my son. Forgiveness, it is in his heart. It was a major part of who Jason was."
His family took comfort in the fact that he died doing what he loved.
And they sent their prayers to the families of the other firefighters and acknowledged the support from others.
"We're feeling their prayers," Bonnie McKay said. "We know they're with us."
The firefighter's 23-year-old sister, Jody McKay, emphasized that all firefighters are family.
"We lost four brothers, and our fifth brother is fighting for his life," she said.
Family members said they had confidence in McKay's extensive training and in the experience of his captain and the other crew members.
Safety is always paramount, and there was no way Loutzenhiser, with five children and a wife at home, would do anything irresponsible, Reese said.
"These guys were super, super careful," she said.
If McKay couldn't make it back to "Wilma," as he dubbed his beloved fire truck, it must have been a firestorm the crew couldn't have foreseen, she said.
Some firefighters who worked with him on a fire in Gorman last summer said an accident like that is almost unthinkable.
"It doesn't happen to us. We're the best-trained wildland firefighters in the world," said Nathan Leatherman, 24, who works on Forest Service Engine 19 in Lucerne Valley. "Before the fire season, we go over every fatal fire since the '40s."
Though McKay struggled a bit through high school, by the time he got to college and was studying fire science, he aced all his classes and training, Reese said.
She said he would say, " `If I'm going to be out there saving people, I want to make damn sure I know what I'm doing.' "
Asked what he liked to do for fun, family members spoke up one after the other.
"Hiking."
"Mountain biking."
"Photography."
"His girlfriend."
"Heavy on that last one," his uncle, Jerry Reese, said with a smile.
McKay was the son he never had. They fished and did handy work together from the time he was very young, his uncle said.
As they recalled the funny and warm memories, some family members also fought tears or succumbed to the pain and sobbed.
McKay's 83-year-old grandmother, Alberta Reese, said simply, "We haven't really lost Jason. He's in our hearts."

Request product info from top Wildland Fire Products companies
Thank You!