Homes threatened by 8,500-acre Calif. wildfire
---
By Jeff Wilson
The Associated Press
MOORPARK, Calif. — An 8,500-acre wildfire in the Ventura County hills closed a college on Wednesday and threatened 1,000 homes as hot, gusty Santa Ana winds fanned the flames.
"We are expecting winds to pick up and fire activity to increase. On the east and west flanks it's wide open country," Ventura County fire Capt. Ron Oatman said.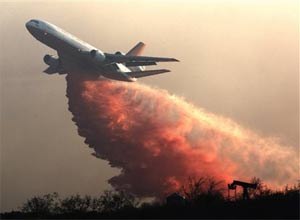 The winds gusted to 45 mph in the morning but should decrease through the afternoon, said Eric Boldt, warning coordination meteorologist with the National Weather Service in Oxnard.
"This morning is probably going to be the most critical timeframe" for firefighters, he said.
The 13-square-mile blaze that began near ranches and farms was heading toward subdivisions and was only 10 percent contained.
The fire, which burned two outbuildings, threatened 1,000 homes and 20 commercial buildings, firefighter Steve Kaufmann said.
Some areas were under evacuation orders.
Moorpark College, a community college located in the hills, announced on its Web site that it would be closed.
The fire erupted Tuesday from spontaneous combustion of manure at a local ranch, according to a statement from the county Sheriff's Department. But Oatman called the statement premature and said the cause of the blaze officially remained under investigation.
Gov. Arnold Schwarzenegger has declared a state of emergency for the county.
The forecast for Wednesday called for 100-degree heat and low humidity, making brush easier to burn.
More than 850 firefighters were battling the fire. Three firefighters received minor injuries.
City spokesman Hugh Riley said the water district authorized avocado growers to turn on irrigation sprinklers in their orchards. He noted Tuesday that the fire was following the path of a blaze several years ago.
"That was a big one and fortunately it burned a lot of the fuel that could feed this one," he said.
Some smaller wildfires broke out Tuesday as weather turned the region into a tinder box.
A blaze that ignited in Riverside County, 40 miles east of Los Angeles, burned 160 acres. It was about 60 percent contained and no homes had been lost.
Winds also caused some increased fire activity on ridgetops in the San Gabriels, where a gigantic arson-caused wildfire continues to smolder a month after it began. But Carol Underhills, a spokeswoman for the U.S. Forest Service, says a haze was caused by ash whipped up by the Santa Anas.
The fire burned across 160,557 acres — 251 square miles — of Angeles National Forest after it was ignited Aug. 26. At its peak it destroyed 89 homes and caused two firefighter deaths.
The fire remained 94 percent surrounded Tuesday, and fire commanders again pushed back the projected date for full containment, this time from Tuesday evening to Thursday morning, due to the weather.
The weather service also issued "red flag" warnings of fire weather conditions in other parts of California due to a combination of low humidity, high temperatures and wind.
Those areas included the hills east of San Francisco Bay and mountains to the north, the northern Sierra and northern Sacramento Valley and a large swath of the state farther north.
A 300-acre wildfire burning in a heavily wooded area of Sonoma County near Geyserville was expected to be contained Wednesday morning.
___
AP writer Solvej Schou in Los Angeles contributed to this report.

Request product info from top Wildland Fire Products companies
Thank You!