How to create a Community Wildfire Protection Plan
Know the five key components of a CWPP and how it can protect your community from wildfire danger
---
The Healthy Forest Restoration Act of 2003 was the initiating legislation for the development of Community Wildfire Protection Plans (CWPPs). This legislation encourages communities to develop these plans to help reduce their risk to wildfire loss as well as create healthier natural ecosystems. The ambiguity in the legislation allows communities to develop effective plans that are relevant to their conditions and can change as community capacity and other conditions change.
Why it is important to develop a CWPP
Community wildfire protection planning is one of the most important components of a wildfire safety strategy in your community. According to the U.S. Forest Service, less than 10% of communities at risk from wildfire have developed a CWPP. Sometimes a community's grant application can be given more priority depending upon whether or not they have a CWPP in place.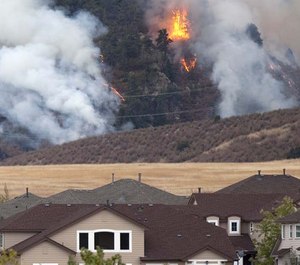 Key components of a CWPP
A CWPP can help you and your jurisdiction plan and prioritize implementing project work that can make a difference in protecting homes, residents and responding firefighters. Some of the key components of a CWPP include:
1. Collaborating with, identifying and including comments from, all stakeholders in the community. The most effective CWPPs include input from all groups in a community because this generates buy-in to project implementation. Everyone has a part to play.
2. Research community risk using maps. Landfire Data may be able to help you depending upon your location (detailing fire history, topography, assets at risk). Identify the condition of infrastructure and local vegetation, as well as response capabilities.
3. Identify key components of risk in local home and infrastructure construction, such as roofs, eaves, decks and vents. Define ways to improve these elements of design and construction to reduce the risk of ignition. Identify removal of landscaping elements such as dead/dry vegetation close to homes, overhanging limbs, and dried leaves/pine needles that can accumulate on the roof under decks, to create defensible space.
4. Identify the condition of the natural environment surrounding the community. Work with state and local foresters, land managers, fire service, emergency managers, and planners to identify opportunities to use prescribed fire or other means to mitigate wildfire risk and improve forest health.
5. Create an action plan that identifies short-term and long-range goals depending on the capabilities of the community and the prioritization of risk identified.
Information developed in the process of creating a CWPP can be integrated into a hazard mitigation plan .
Create a CWPP for your community
The U.S. Fire Administration's (USFA) Creating a Community Wildfire Protection Plan guide will assist you in making a CWPP. The form-fillable templates in the guide allow you to create an action plan and document assets at risk, forest/landscape health issues, and key stakeholders.
The items included in the guide are suggestions and by no means inclusive of all components your community needs to work on. You will need to identify your own unique risks and create your own solutions.

Request product info from top Wildland Fire Products companies
Thank You!