Where to find products purpose-built for wildland and WUI firefighting
Look for nozzles, hose appliances and tools designed for interoperability during multi-agency fire suppression operations
---

By Robert Avsec for FireRescue1 BrandFocus
For nearly thirty years, fire fighters around the world have trusted S&H Products to provide them with the necessary tools to aid them in saving lives and property, particularly firefighters working in wildland and wildland-urban-interface (WUI) environments. From its USA-based manufacturing facility in Arvada, Colorado, S&H Products has earned that trust through its commitment to ensuring that the nozzles, tools, and hose appliances they offer are of the highest quality and available at a fair price.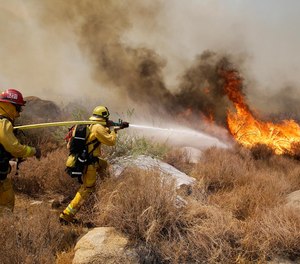 The designers and engineers at S&H Products oversee each step in the manufacturing process – from concept through design, manufacturing, and testing – which is how the company can deliver firefighting tools and appliances that are of the highest level of workmanship to firefighters who are doing a job that demands nothing less.
That dedication to quality workmanship and attention to detail has earned S&H Products the distinction of being an official supplier of firefighting equipment to the U.S. General Services Administration, the U.S. Forest Service (USFS), and the Defense Logistics Agency (supplier to all branches of the U.S. military). And while their products are designed for use in wildland and WUI firefighting, they are versatile enough for use by structural firefighters as well.
S&H's products are designed and manufactured to meet or exceed U.S. Forest Service Specification 5100, which requires that nozzles and hose appliances have up to a 600-psi working pressure and that they are light-weight for firefighters who must carry their equipment great distances in back packs when battling wildfires and fires in the WUI.
Fire departments that provide mutual aid, and contractors that work for the USFS (e.g., battling big wildfires in the western U.S.), need these USFS-compliant products to ensure interoperability when engaged in multi-agency fire suppression operations. (CAL Fire, one of the largest fire service organizations in the world, is one of S&H's customers.)
Make a match for interoperability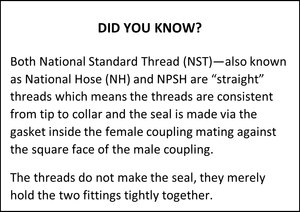 Most of the equipment in S&H's product line are manufactured with 1-inch NPSH (National Pipe Straight Hose) thread and 1-1/2" NH (National Standard Thread). Fire hoses and appliances with NPSH threads have the same threads-per-inch as National Pipe Thread (NPT) but the threads do not taper. This allows a female coupling to thread onto an NPT fitting (e.g., a domestic water supply outlet) without being a permanent connection
The use of NPSH threads also aids in interoperability during multi-agency fire suppression operations where fire agencies may be using hoses and appliances that have both NST and NPSH threads.
The company's hose appliances (e.g., wyes, gated wyes, t-valves, twin tip, and nozzles are also useful for water distribution to smaller sizes like GHT (Garden Hose Thread) for firefighters to use for personal hygiene, initial contaminant reduction (gross decontamination), and equipment clean up.
Know your nozzles
Break-apart attack nozzles are a combination of the pistol grip shut-off valve and either the constant flow or dual range nozzle that are both cost-effective and user friendly for first responders in either wildland, WUI, or structure fire applications. S&H break apart attack nozzles are dual range nozzles featuring a ball shut-off capable of both fog and straight stream applications with water flows of 20-90 GPM. Available in both 1 ½-inch and 1-inch hose connection models.
Both the 1-inch Bumperless Dual Range nozzle and 1-inch Dual Range nozzle give the firefighter more control with both a low flow and a high flow rate setting. Both nozzles provide adjustable fog and straight stream patterns with a twist shut-off to provide superior control capable of water flows of 10-30 GPM.
The 1-inch Twin Tip Forestry Nozzle is THE time-tested forestry nozzle. Made from high-quality cast aluminum with stainless steel internal parts, it comes standard with a 3/16-inch straight stream tip and a 3 GPM fog spray tip. The nozzle has a fog spray position, a straight stream position, and an off position.
The S&H Mop Up Nozzle is not a home garden nozzle! But it is a nozzle that uses two-piece solid brass construction and is virtually indestructible! This sturdy firefighting nozzle comes with 3/4″ GHT inlet threads and can provide fire flows ranging from 4 GPM (spray pattern) to 8 GPM (straight-stream pattern).
The Applicator Wand with Brass Mop Up Tip is constructed with lightweight aluminum and brass for versatile use in wildland firefighting. The wand is 4-feet in length and comes with a 3/4″ GHT mop up brass spray tip and can provide fire flows ranging from 4 GPM (spray pattern) to 8 GPM (straight-stream pattern) for mop up operations.
Hose appliances that are lightweight and durable
The S&H product line includes valves and tools for wildland and WUI firefighting that are both light-weight and durable. S&H's 1-inch Gated Wye, 1 ½-inch NH Gated Wye, and 2 ½-inch to 1 ½-inch gated wye valves are made using cast aluminum and meets USFS specifications that include certification to 600 psi working pressure and 1,200 psi stagnant pressure.
Wildland and WUI firefighting frequently requires adding hose to existing lines and S&H has a number of value solutions to meet those challenges. The 1 ½-inch (NH) to 1-inch hose Line "T" Valve is crafted from cast aluminum making it ultra-lightweight and extremely durable.
The S&H 1 ½-inch Swivel Shut-Off Valve is crafted from anodized aircraft aluminum with a heavy duty cast aluminum handle, making it the perfect valve for rugged operations in the wildland or WUI fire environment when you need to add hose to an existing hoseline.
When it comes to wildland or WUI firefighting, S&H Products has the nozzles, hose appliances and tools that will meet your department's needs. The U.S. General Services Administration, the U.S. Forest Service, and the Defense Logistics Agency trust S&H for their wildland and WUI firefighting needs. Shouldn't you?

Request information from Witmer Public Safety Group, Inc.
Thank You!