PRESS RELEASE
California Fire Chiefs Association launches preferred vendor program with 3AM Innovations
---
SACRAMENTO, Calif. - 3AM Innovations, a technology solution provider for incident management and mission-critical resource tracking and communications, today announces their strategic partnership with the California Fire Chiefs Association ("CalChiefs") as the organization's Preferred Vendor for real-time resource tracking, incident management and data-driven decision support for the fire service.
This vendor alliance is the first of its kind for CalChiefs and solidifies the organization's commitment to enhancing the fire protection and incident management capabilities of its members. By joining forces with 3AM, CalChiefs can ensure ease of access to 3AM's leading edge technology solutions for fire agencies across the state. The Preferred Vendor partnership further provides CalChiefs members with access to valuable information and live demonstrations to learn directly about 3AM's proven capabilities.
"California has a diverse landscape, and as a result, it is susceptible to a unique variety of hazards and emergencies," said Jeff Meston, executive director of the California Fire Chiefs Association. "We appreciate 3AM's ability to help responders understand the risks of a fireground or other emergency situations before they arrive on the scene, manage personnel throughout the event, and automate reporting for after-action assessment and training. Their ability to do this in a low cost and automated way is an asset that would benefit all our firefighters in the varied emergencies they face."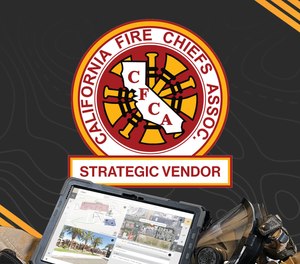 3AM's FLORIAN is a revolutionary decision support software solution that leverages real-time, incident-specific information to better inform response efforts and does so both online and offline. With it, firefighters and incident commanders can reliably operate and communicate during critical, time-compressed moments across all phases of incident response, mitigation and after-action review and reporting. The result is more effective communication, better training, and safer outcomes for all California firefighters.
As technology continues to evolve, so do FLORIAN's software capabilities. Today, the platform ingests information from a department's CAD, GPS-enabled radios, MDTs, SCBAs, ruggedized cellular telephones, wearables, drones, and other data sources and displays that data on a single screen, enabling firefighters to make fast decisions with higher confidence. It also serves as a market leading MDT solution on its own, displaying up to date, three dimensional maps and hydrant data to all responding units. 3AM's goal is to continue perfecting and evolving these capabilities over time.
"Our goal of continuous improvement is best achieved with direct input from CalChiefs and the firefighters themselves," said Ryan Litt, chief operating officer and co-founder of 3AM. "With this partnership, we can capture their perspectives and evolve our platform more logically for the fire service."
"At the end of the day, CalChiefs and 3AM share an important mission to ensure safer operations for firefighters, and better outcomes for the communities they serve," he added.
About the California Fire Chiefs Association
The California Fire Chiefs Association (CalChiefs) is a large and diverse professional association whose vision is to be the voice of the California Fire Service. They represent members from over 800 municipal, state, federal, local, and corporate fire agencies across California covering a full spectrum of fire, EMS and all risk disciplines and hazards. CalChiefs provides a depth of knowledge and resources to actively engage in legislation affecting service delivery across the state and at the national level from a platform of integrity, professionalism, credibility, innovation, and competency. Learn more at www.calchiefs.org.
About 3AM Innovations, Inc.
3AM Innovations provides leading edge 3D technology solutions to empower firefighters and other critical first responders with the information they need to save lives in the field. 3AM leverages the interoperability of data from global partners into its FLORIAN platform to expand the decision-making capabilities of first responders. With decades of incident command experience and the power of artificial intelligence, 3AM is converting the organized chaos of an emergency into actionable intelligence. Learn more at www.3aminnovations.com.