PRESS RELEASE
Coaxsher disrupts industry with new stretch fabric FireForce station wear pants and shirts
---
CHELAN FALLS, Wisc. - With wildfires spreading along the West Coast this summer, first responder safety in urban and rural areas alike is more critical than ever. Coaxsher is ready to meet that need with their latest industry disruption: FireForce Station Wear Pants and Shirts where utility meets function. The latest additions to Coaxsher's extensive line of fire safety gear are made of NFPA Stretch material for the performance balance between freedom and safety.
FireForce Station Wear Pant
Stretch Fabric, Visual Identification, and New True Fit Responsive Waistband.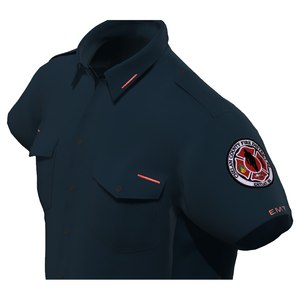 Coaxsher brings to market an industry first – NFPA Stretch material for excellent movement and fit along with visual identification of emergency responders by adding color embroidery to the pant pockets, clearly identifying first responder personnel of all agencies.
The True Fit responsive waistband provides the ultimate comfort along with five reinforced beltloops to accommodate heavy duty belts, along with many other features. Made in the USA, the FireForce Station Wear Pant is a must have for any department looking to enhance the function of their standard station wear uniform while maintaining a modern professional look.
Designed specifically for fire station personnel and first responders, the FireForce Station Wear Pant is compliant with current NFPA 1975 specifications.  These pants also have you covered when responding to rural brush and forest fires being NFPA 1977 compliant.
FireForce Station Wear Shirt
The only NFPA Class B shirt with Stretch Fabric and Visual Identification.
Made in the USA, the FireForce Station Wear Shirt takes Class B uniform shirts to the next level.  New stretch fabric in strategic areas gives first responders extra movement and comfort while maintaining the professional look of their agencies. Providing an industry first embroidered color marking system on the collars and pockets to clearly identify first responder personnel of all agencies.
Custom marking on the sleeve can further classify an individual, making first responders on scene more identifiable to crew and bystanders. The shirt is longer in the front and back, so it will stay tucked in while on the move or in public settings. More room in the chest and across the back with NFPA stretch fabric.  Coaxsher's specialty snaps have just the right hold for a firm snap but can be quickly removed when needed. With Coaxsher's unique pattern design, first responders will have a Class B shirt that fits like no other. The FireForce Station Wear Shirt is available for pre-order now.
"We know how important comfort and utility are to first responders, so we are excited to share our latest industry disruption – FireForce Station Wear Pants and Shirts that identify first responders from different agencies and bring a new level of comfort and function," said co-founder Kyle Cox. "These products provide form, function, comfort and durability, so first responders can focus on their important work."
Coaxsher has combined its knowledge of the industry, personal experience, and feedback from professionals across multiple agencies to develop a new standard of performance and function for today's firefighting needs. All products are backed by Coaxsher's 100% satisfaction guarantee. To learn more about Coaxsher and its personal protective equipment or to place an order, visit the fire gear specialist online at Coaxsher.com or contact the sales team at sales@coaxsher.com or 509-663-5148.
About Coaxsher
With experience as wildland firefighters and a shared passion for the outdoors, in 2001, brothers Kevin and Kyle Cox founded Coaxsher where they and their team design and create versatile, innovative gear/PPE for firefighters and other emergency management personnel.  Based in Chelan Falls, Washington, their gear is used around the world by firefighters, search and rescue teams, military personnel, and other first responders. The Coaxsher team prides itself on developing innovative, high-quality products and tailoring the designs to meet their customers' changing needs.

Request more info from Coaxsher
Thank You!