PRESS RELEASE
Dauntless Air enters 2023 wildfire season with 17 Fire Boss air tankers; completes rigorous 2-week annual training
---
Dauntless pilots, ground crew and maintenance personnel prepare to assist federal and state wildfire operations across the U.S.
Appleton, MN & Cleburne, TX – Dauntless Air, an aerial firefighting company deeply dedicated to protecting people, land and property from the devastation of wildfires, today announced that it will enter the 2023 wildfire season with 17 Fire Bosses - nearly double the size of its fleet five years ago. 9 of Dauntless' water-scooping planes were used during the company's 2-week annual training, which concluded last week in Cleburne, Texas. This industry-leading program—which spans piloting, ground support and maintenance training—has helped to develop one of the most highly-skilled and tenured Fire Boss pilot corps in the world and achieve 99.3 percent average fleet availability since 2018, underscoring the caliber and reliability of Dauntless' Fire Boss operations.
"We aim to be the safest, most effective and most reliable ally possible in the battle against wildfires," said Brett L'Esperance, Dauntless CEO. "We do that by attracting and retaining team members who identify with our core values of service, teamwork and professionalism; continuously expanding and upgrading our Fire Boss fleet so we're bringing the best tools to every mission; and investing in our extensive company training program that has set the standard globally for Fire Boss excellence."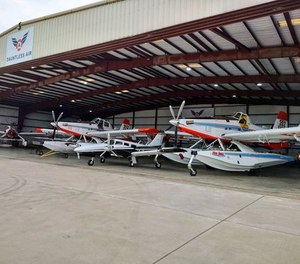 For the third year in a row, the Dauntless Fire Boss training program spanned two weeks and involved every person in the company, including pilots, mechanics, crew chiefs, leadership and administrative staff. The 2023 program exceeded industry standards in three key areas.
Pilots logged the most pre-season flight hours of any aerial firefighting operator. Dauntless pilots new to the Fire Boss logged three times the industry standard for pre-season flight hours, flying roughly 25 hours each solo and with an experienced pilot in the company's two-seat Fire Boss training aircraft. Combined, all Dauntless pilots flew 150.8 pre-season hours, exceeding the company's own industry-leading standard of 141 total hours set in 2022. During that time, pilots completed 844 scoops and dropped 518,601 gallons of water.

Pilots, support crew and external teams engaged in collaborative training missions. Dauntless pilots worked on radio communication skills with an Air Attack platform that flew above a target training area. Also, Dauntless pilots practiced performing rapid initial attack on a simulated fire with the Texas Forest Service (TFS). Dozens of TFS incident commanders, a pump truck and dozers participated in the training. In addition, Dauntless crew chiefs completed simulated dispatches and aircraft loading exercises, and mechanics maintained aircraft and attended supplementary and recurrent maintenance-related classes. 

All Dauntless team members joined training sessions with external partners and state and federal agencies. Aircraft Owners and Pilots Association (AOPA) Air Safety Institute Executive Director, and former Commander and Lead Pilot of the U.S. Air Force Thunderbirds, Richard McSpadden, gave a keynote address about performance versus risk in piloting and how to manage the gap. US Hotshot Association (USHA) representatives delivered a session on the history of the hotshot community and its ties to aerial firefighting. Aviation Medicine Advisory Service (AMAS) President and CEO Quay Snyder, MD, MPH led a workshop on pilot fatigue, mental health and fitness for duty. Additional training sessions were conducted by the U.S. Office of Aviation Services (OAS), Bureau of Land Management (BLM) and Minnesota Department of Natural Resources (MN-DNR).
This year, Dauntless will support federal and state wildfire operations across the U.S. through exclusive use and call-when-needed contracts. For more news and information on the 2023 wildfire season, follow Dauntless Air on Instagram, Facebook, LinkedIn and Twitter.
About Dauntless Air
Dauntless Air is an aerial firefighting company deeply dedicated to protecting land, people and their property from the devastation of wildfires. In all we do, we give it our all. We work tirelessly to give firefighters the support they need to put out fires faster and at a substantially lower cost than traditional tanker methods. Armed with North America's largest and most advanced Fire Boss fleet featuring the very latest in firefighting technology, we are resolute in our commitment to safety, to our customers and to winning the wildfire missions we undertake. https://dauntlessair.com