PRESS RELEASE
Firefighting drone market set to soar with projected $2.76 billion value by 2030
---
Technological advancements and increasing demand for firefighting solutions fuel rapid growth in the drone industry
By FireRescue1 Staff
CHICAGO — The global firefighting drone market, valued at USD 1.31 billion in 2022, is projected to more than double by 2030, reaching USD 2.76 billion, according to a recent report by Cognitive Market Research. This signifies a Compound Annual Growth Rate (CAGR) of 9.8% from 2023 to 2030.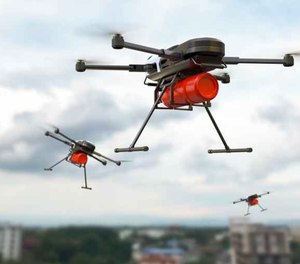 The surge in demand for firefighting drones is primarily attributed to the rising number of fire incidents in forests and industrial sectors. These drones are particularly effective in monitoring and capturing scenes where firefighters and fire trucks may struggle to reach. Government initiatives investing in the development of firefighting solutions using new technologies are also expected to propel market growth during the forecast period. 
Technological advancements, such as cloud platforms and AI technology, are anticipated to open new opportunities for market growth. In terms of type, the multirotor firefighting drone segment dominated the market in 2022 due to its extensive application in various industries. Meanwhile, micro-firefighters' drones held the largest market share, attributed to their ability to reach any location for quick and reliable inspection.
Regionally, North America dominated the market in 2022 due to high adoption rates of firefighter drones across different sectors. However, the Asia Pacific region is expected to experience the fastest growth during the forecast period due to the increasing adoption of high technology among emerging countries like China and India.
The report also highlighted potential challenges for the market growth, including limited operational bandwidth and a lack of skilled pilots. However, product development, product launch, collaboration, and partnerships by key market players are expected to mitigate these challenges and open new avenues for market growth.
The COVID-19 pandemic initially led to a decline in the firefighting drone market growth due to imposed lockdowns. However, the situation also provided opportunities for market players to develop their products with advanced technology, which is expected to boost the demand for firefighting drones post-pandemic.
The full report, including global, regional, and country-level analysis, can be accessed here.
Firefighting drone operators and fire chiefs can look forward to an industry poised for substantial growth and technological advancement, providing them with increasingly effective tools to combat fires and protect communities across the globe.
Key players in the firefighting drone market include: 
DJI
Lockheed Martin Corporation
AeroVironment, Inc.
BSS Holland B.V
Elistair
Drone Amplified
Dronefly
EHang
Vimal Fire
Yuneec Holding Ltd. Company
DSLRPros
Guangzhou Walkera Technology CO., LTD
Teledyne Technologies Incorporated
Draganfly inc.
SKYDIO, INC.
L3Harris Technologies Inc
FireRescue1 is using generative AI to create some content that is edited and fact-checked by our editors.