PRESS RELEASE
Ford Donates Bronco wildland firefighting command rig to National Park Service to help battle fires on public lands
---
DEARBORN, Mich. – As the threat of wildfires increases, Ford Motor Company and the Bronco Wild Fund are donating a Bronco Badlands® SUV with Sasquatch® off-road package to the National Park Service for use in Bandelier National Monument, where it will operate a firefighting command vehicle.  
"For more than a century Ford has supported fire response and disaster relief efforts by deploying vehicles to provide emergency transportation and power and deliver essential goods," said Dave Rivers, Ford enthusiast brand manager. "Bronco Wild Fund was created because of our passion for the outdoors, and we're excited to donate the Bronco wildland firefighting command rig to Bandelier to help protect this National Monument for generations to come."   
The Bronco wildland firefighting command rig follows the Bronco + Filson Wildland Fire Rig Concept and is being donated through the Ford Bronco Wild Fund, which works to increase access, preservation and stewardship of our public lands. True to Ford's commitment to building a more sustainable and inclusive future on The Road to Better, Bronco Wild Fund reflects a deep respect for our public lands and an unbridled commitment to helping those lands continue to be a world of wonder for all. To date, Bronco Wild Fund has donated more than $3.7 million to diverse causes, including organizations like America's State Parks, National Forest Foundation, Outward Bound and Sons of Smokey.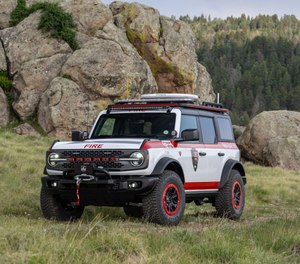 The 33,000-acre Bandelier National Monument is in northern New Mexico, about a two-hour drive north of Albuquerque and is composed of rugged canyons and mesas that contain petroglyphs, cliffs dwellings and evidence of human presence going back over 11,000 years. Bandelier's position in the transition zone of the high desert of the American Southwest provides a unique environment where the rapid effects of climate change have been observed and studied. The park has a history of natural fire occurrences, and as the fire season grows longer, the park is experiencing more repeated fires in the same landscape.     
"I want to thank Ford for this generous donation," said Patrick Suddath, superintendent of Bandelier National Monument. "Over the last 20 years, warmer temperatures and stronger winds have resulted in bigger fires that are harder to predict and manage. These more resource-intensive fires have a real impact on Bandelier's firefighting corps, and this donation will help us manage fires better. It will also help to minimize impact to the park's affiliated tribes, who have traditionally used park land for cultural, economic, and spiritual reasons."  
Two-thirds of Bandelier is designated wilderness, meaning it lacks infrastructure and is difficult to access. The Bronco wildland firefighting command rig will enhance Bandelier's fire fleet, expanding their current capabilities.  
This Bronco is the first of two that are being developed by Darley for donation to the National Park Services and a wildland firefighting agency that will be the subject of a future announcement. The intent of this pilot program is to develop a tool that addresses an unmet need by allowing a deeper command position with reliable and redundant connectivity as well as facilitate the acquisition and sharing of valuable information to aid firefighters.  
Darley is a global manufacturer and distributor of defense, fire and rescue vehicles, and is the company carrying out the customization. The vehicle is upfit with an array of equipment to help the park monitor and manage active fires, assist with identifying fires, deliver real-time updates on fire location and severity, and provide other firefighting support.  
To achieve these objectives, the rig is equipped with a state-of-the-art government communication system, including satellite and antenna connections, to provide reliability and redundancy in the most remote environments. The integrated technology will allow firefighters to establish a real-time backcountry command and control position with the crews during emergency operations. The vehicle also includes a drone with live feed screens on the vehicle, tablet computer and special software providing the first response team with improved aerial reconnaissance, detection capabilities and improved situational awareness. These high-tech, effective solutions allow for safer operations when responding to wildland fires as well as when responding to other domestic disaster situations.  
"The Bronco wildland firefighting command rig is like the ultimate communications hub with G.O.A.T. modes®," said Rivers. "It's a four-door mountain goat made to carry firefighting rangers so they can quickly coordinate where emergency units need to be."  
Other specialized hardware includes a grille guard, a factory-installed Warn winch, a set of beadlock wheels, and a roof rack fitted with a light bar, search and emergency lights and siren.  
"Henry Ford and W.S. Darley worked together in the 20th century," said Kimberly Brown, Darley chief marketing officer. "We are honored that a hundred-plus years later our companies are still working together to serve our national heroes and sustain our beautiful spaces. Everything we do is built for performance and powered by technology with a relentless focus on the human experience."  
The Bronco will be officially provided to the National Park Service at a ribbon-cutting ceremony at Bandelier National Monument today. To learn more about The Road to Better and the Bronco Wild Fund visit sustainability.ford.com.  
About Ford Motor Company   
Ford Motor Company (NYSE: F) is a global company based in Dearborn, Michigan, committed to helping build a better world, where every person is free to move and pursue their dreams.  The company's Ford+ plan for growth and value creation combines existing strengths, new capabilities and always-on relationships with customers to enrich experiences for customers and deepen their loyalty.  Ford develops and delivers innovative, must-have Ford trucks, sport utility vehicles, commercial vans and cars and Lincoln luxury vehicles, along with connected services.  The company does that through three customer-centered business segments:  Ford Blue, engineering iconic gas-powered and hybrid vehicles; Ford Model e, inventing breakthrough EVs along with embedded software that defines exceptional digital experiences for all customers; and Ford Pro, helping commercial customers transform and expand their businesses with vehicles and services tailored to their needs.  Additionally, Ford is pursuing mobility solutions through Ford Next, and provides financial services through Ford Motor Credit Company.  Ford employs about 173,000 people worldwide.  More information about the company and its products and services is available at corporate.ford.com.