PRESS RELEASE
Intellic Technologies launches to provide virtual reality and in-the-field training for wildland firefighting
---
Announcing the merger of Becker Support Services and Anchor Flank & Pinch
CLAREMONT, Calif. - Becker Support Services, developers of aerial firefighting and wildland fire simulation software FS3D, along with Anchor Flank & Pinch (AFP), providers of ground and aerial firefighting training services, announces the formation of Intellic Technologies, a wholly owned and partnership-run limited liability company. The company's focus is to provide innovative, virtual, and in-the-field wildland fire training to government agencies, aerial and ground support companies, and U.S. ally wildfire organizations around the globe. Their mission is to develop safe, efficient, and effective training services year-round.
Chief Technology Officer, Trevor Maynard, stated, "We've been working together with AFP for several years in the development of our proprietary software, FS3D, and integrating it into training programs for some of the largest wildland firefighting organizations in the country. This merger brings the best of all training options with immersive, virtual, and cost-effective experiences to reduce the risks of one of the most dangerous jobs today."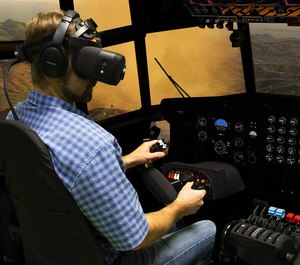 The Intellic team combines respected scientific experts and experienced, trusted fireline leadership under a singular focus on capturing, testing, and sharing knowledge that matters — connecting wildfire training services and virtual reality simulation software — setting the standard of excellence in strategies and tactics for aerial and ground incident command training programs.
"With the growing impact of climate change and increasing threat from wildfires, we're helping create better-managed wilderness and landscapes using optimal fire management and suppression tools and tactics that help save lives, property, and our natural surroundings," said Ryan Becker, CEO. "We're creating training services and software with the latest knowledge and strategies to provide the most effective aerial and ground training possible."
About Intellic Technologies:
Intellic Technologies is "Connecting Wildfire Intelligence" by providing innovative wildland fire training products and services featuring FS3D, an immersive visual wildfire simulator, and Anchor Flank & Pinch (AFP), the training services division of Intellic Technologies. FS3D includes software and hardware that utilizes virtual and mixed reality (VR/MR) with photo-realistic imagery and scientific fire growth modeling to create an immersive, high-quality wildland fire training environment. AFP provides expert training services that integrate FS3D to develop the best, safest, most professional, effective, and efficient firefighters in the world.