PRESS RELEASE
LION and Dinges Fire Company Partner to Distribute First Responder PPE
---
DAYTON, OH – In an effort to improve customer support and coverage throughout the Midwest, LION and Dinges Fire Company are partnering to distribute first responder personal protective equipment (PPE).
LION is the largest family-owned manufacturer of first responder personal protective equipment (PPE) in the United States.  In addition to producing some of the most high-quality, cutting-edge turnout gear available, LION also offers a holistic suite of critical fire service products and services that no other US manufacturer provides.  From state-of-the-art digital fire training tools to live-fire training products and custom builds, LION's training product portfolio covers a large spectrum of fire department training needs.  Additionally, LION TotalCare® provides first responders with professional PPE cleaning, repair and inspection services as a verified Independent Service Provider. 
"Growth is always on our minds at LION and we are relentlessly looking for partners who share this mind-set," said Mark Smith, senior vice president of LION Americas.  "Dinges is a first-class company that has proven it knows how to grow and is truly passionate about this industry for the right reasons.  They are exactly the type of distributor LION is looking for, so we are more than excited to begin this partnership that will allow us to expand our shared purpose of protecting and educating first responders."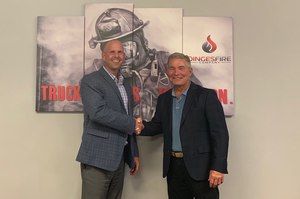 Dinges Fire Company, based in Amboy, IL, is a growing emergency service distributor, committed to protecting America's emergency responders with the best safety and protection equipment on the market.  With over 200+ years of firefighting experience among their team, they take tremendous pride in being firefighters serving firefighters.
"We are proud to align ourselves with a company that shares so many of our core values as well as the same passion for the safety of our first responders," said Nicholas Dinges, CEO of Dinges Fire Company.  "We look forward to growing this partnership with LION for many years to come."
Dinges Fire Company will begin distributing LION products in early September 2019.                 
Interested in learning more about the offerings included in the LION product portfolio?  Visit the LION website at www.lionprotects.com or Dinges Fire Company at www.dingesfire.com. 
Request more info from LION
Thank You!