PRESS RELEASE
LION and Fire Department Coffee raise money for Firefighter Cancer Support Network
---
INDIANAPOLIS — LION First Responder PPE, Inc., the largest family-owned manufacturer of first responder personal protective equipment (PPE) in the United States and Fire Department Coffee (FDC), a firefighter-run company known for their freshly roasted blends and philanthropic work within the firefighter and first responder community. Together, LION and FDC created a co-branded coffee blend with 100% of the proceeds going towards the Firefighter Cancer Support Network (FCSN).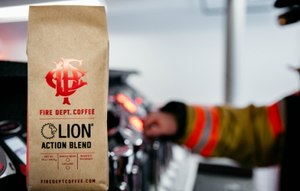 The LION Action Blend Coffee will be $14.00 for a 14 oz. bag. Bags will be available for sale at www.firedeptcoffee.com starting April 10, and at LION's Fire Department Instructors Conference (FDIC) booth; #1323. When you purchase a bag of LION Action Blend Coffee, all proceeds will be donated to the FCSN, a nationwide non-profit organization that aids with firefighters and their families following a cancer diagnosis.
According to the International Association of Fire Fighters (IAFF), since 2002, the International Association of Fire Fighters (IAFF) has attributed more than 60% of firefighter line of duty deaths (LODDs) have been attributed to cancer. LION launched the 'Not in Our House' campaign to help raise awareness about this devastating crisis. Through LION's website, 'Not in Our House' provides firefighters with downloadable resources, fire service cancer statistics and a platform to share their personal firefighter cancer stories.
"Cancer is the leading threat to a firefighter's health today," explained Mark Smith, LION Senior Vice President. "At LION, we've made it a priority to help firefighters reduce their exposure to this threat by helping to fund great firefighter cancer support organizations like FCSN. But we don't stop there. Additionally, we not only educate firefighters on how to protect themselves from the firefighting-related carcinogens, but we also diligently work to develop innovative protective gear, maintenance and fire training solutions to help protect them out on the front lines."
"Every firefighter has been impacted by cancer at some point in time in their career whether it was themselves who had cancer, a friend, or a fellow firefighter. Cancer is a horrible disease that hits very close to home, especially for firefighters," Luke Schneider, Founder of Fire Dept. Coffee.
To purchase your LION Action Blend Coffee, stop by the LION booth (#1323) at FDIC International in Indianapolis April 11-13th, 2019, or purchase online at www.firedeptcoffee.com.
About LION
Founded in 1898 and headquartered in Dayton, Ohio, LION is a family-owned company with a legacy and ongoing vision of introducing new products and services designed to ensure the health, safety and performance of first responders worldwide. From game-changing personal protective equipment (PPE) and professional gear maintenance to state-of-the-art fire safety training tools and facilities, it is LION's mission to make sure that you're READY FOR ACTION -- before, during and after. To learn more, visit www.lionprotects.com.
Request more info from LION
Thank You!