PRESS RELEASE
True North Announces Donation to Wildland Firefighter Foundation
---
use if there is a picture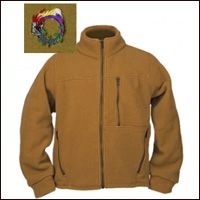 end picture
Seattle, WA – True North, a leading manufacturer of quality bags, backpacks and fire resistant clothing, is pleased to announce the donation of $5,000 to the Wildland Firefighter Foundation from the 2010 sales of its limited edition Alpha™ Jacket.
True North pledged $100 for every jacket sold for the 2010 "Help a brother or sister, and get a truly warm feeling in return" campaign in order to help wildland firefighters. The limited edition Alpha™ Jackets have the Wildland Firefighter Foundation logo embroidered on the right shoulder and are part of True North's DragonFur® Nomex fleece jackets.
Wildland Firefighter Foundation's main focus is to help families of firefighters killed in the line of duty and to assist injured firefighters and their families. They honor and acknowledge past, present, and future members of the wildland firefighting community, and partner with private and interagency organizations to bring recognition to wildland firefighters.
True North's DragonFur® brand clothing ensures that anyone working around fire or electrical hazards can be both comfortable and safe. DragonFur® FR fleece clothing is rugged, breathable, wicks moisture, and provides protection from workplace hazards. The fabrics are inherently flame resistant so the protection won't ever wash out.
About True North, LLC
True North has been a trusted source for quality bags, backpacks and fire resistant clothing for more than 18 years under the True North®, DragonFur® and Drink! ® Hydration Brands. The company's commitment to quality manufacturing and innovation ensures that every product offers unrivaled comfort, function and reliability. For more information, visit www.truenorthgear.com.

Request more info from True North Gear
Thank You!